'Firefly' Producer Keeps Fan Hope Alive With Suggestion Of A Limited Series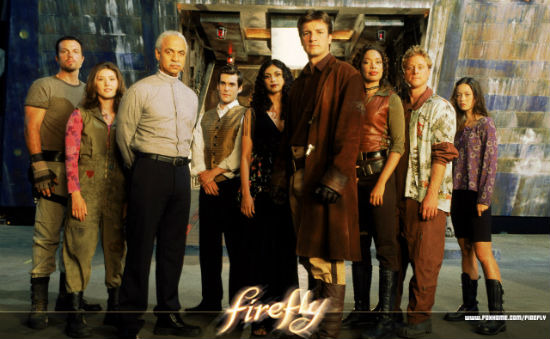 By now, you'd think fans of Joss Whedon's TV show Firefly would come to peace with the fact it's over. Yes, the show was unceremoniously cancelled in 2002, but Whedon made an unlikely film version for the fans three years later. Since then, almost all its stars have gone on to bigger and better things. And Whedon is now delivering his pop-culture savvy, whip-smart dialogue on a much larger scale. Yet the fans, collectively known as Browncoats, still hold out hope for some kind of return.
With quotes like the following, who can blame them? Though there is nothing at any stage of development, Firefly producer-writer Tim Minear recently said he "would never foreclose the possibility" of a comeback, and suggested a "limited series" on Netflix or something could work.
The quotes come from this piece over at Entertainment Weekly. There's more there, but here's the big one:
I'm completely talking off the top of my head, but there's a show that's been on for the last couple years that's reinvented the form in terms of the limited series. I'm trying to think of the name of that show — Oh yes! American Horror Story! It doesn't have to be 13 episodes. Look how Sherlock does it....I think a limited series of some kind would work best. Something like that could also work if, say, 20th [Century Fox, who owns the rights] could partner with Netflix, or another distributor. It would have its home on Fox, of course [then a second window on streaming]. A limited series would do very well, I bet.
Minear also says on multiple occasions this hypothetical limited series is not in the works, and the cast and crew are scattered all over, but he has a "never say never" attitude. Which makes sense considering things fans once thought impossible — the return of Arrested Development;The Wonder Years on DVD; Batman vs. Superman – are all somehow becoming a reality these days. Why not a Firefly reunion?