LOL: Jerry O'Connell Plagurizes Shia LaBeouf With #IAMSORRYTOO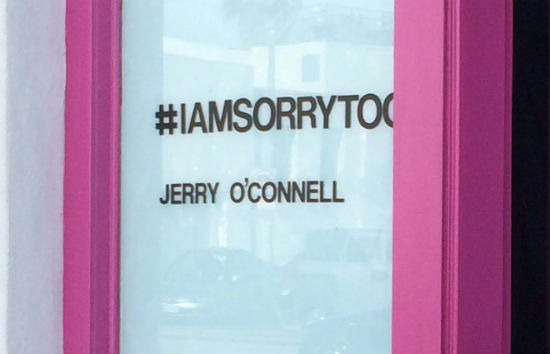 Shia LaBeouf would be proud of Jerry O'Connell. LaBeouf got national press Tuesday for the opening of his contemporary art installation #IAMSORRY. The "show" features LaBeouf in the paper bag he wore to the world premiere of Nymphomaniac in Berlin, sitting quietly while fans talk to him. Wednesday, in the space right next door to LaBeouf's in West Hollywood, actor Jerry O'Connell set up #IAMSORRYTOO, which featured the Stand By Me, Jerry Maguire and Sliders star in a bag that said "Super Famous," and willing to talk about damn near anything. 
Much like the LaBeouf exhibit (which you can read about on virtually every website out there), attendees walked into #IAMSORRYTOO and were presented with a table of artifacts. Among them, a Stand By Me Blu-ray, a bottle of Jordache cologne, a bottle of Jack Daniels, a small pink ukulele, a tin UFO toy and a few others. I chose the Blu-ray. (The one here difference being, when you walk into #IAMSORRYTOO, you're told you are being filmed.)
The instant you enter the second space, a figure one assumes is O'Connell in a paper bag saying "Super Famous" immediately started apologizing. "I'm sowwy, I'm sowwy" he said in his best baby voice. For a second, it seemed that was the whole gimmick. I asked if he was sorry for the Blu-ray in my hand. He asked to see it, said he was sorry it had been opened already, but he wasn't sorry for the film. "So what are you sorry for?" I asked. Into a deadpan diatribe O'Connell went. He's sorry he can't keep a show on network TV, he's sorry for what he feeds his kids, it was all totally goofy, but with an air of honesty.
We then got to talking about LaBeouf and all the things he has to be sorry for. I interjected, "Mostly Indiana Jones 4" which O'Connell said he actually enjoyed in a way. He felt LaBeouf got to work with Steven Spielberg and Harrison Ford, so he shouldn't be sorry about that. On and on the pointless conversation went (other topics: the Super Bowl, Kush from Jerry Maguire) until I realized I'd definitely overstayed my welcome.
As I exited, O'Connell pulled the bag off his face to confirm, I was indeed talking to the real guy. One last time, he said he was sorry with a maniacal grin.
On the way out, I was asked to sign some consent forms, meaning this will surely be making its way online soon. It was a fun experience, and a clever way to spoof LaBeouf for his plagiarizing ways – by stealing his thunder right next door and plagiarizing right back.
#IAMSORRYTOO, which is said to be sponsored by Funny or Die, is only open Wednesday February 12 until 5 p.m. PST. Address is 7358 Beverly Blvd.