First Look: Jason Clarke In Baltasar Kormákur's 'Everest'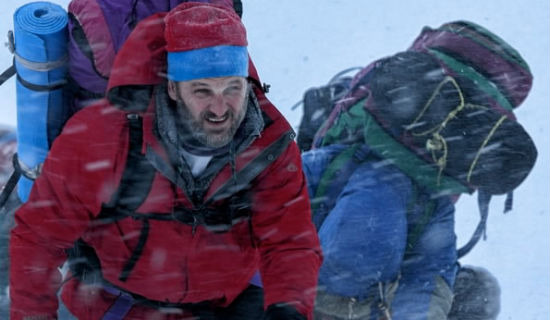 Production is now underway on the star-studded mountain climbing drama, Everest. Directed by Baltasar Kormákur (Contraband), Everest features Jason Clarke, Josh Brolin, John Hawkes and Jake Gyllenhaal telling the true story of two groups of climbers who attempted to summit the world's highest mountain in what turned out to be a horrible snowstorm. It'll be released in IMAX 3D on February 27, 2015. Check out the full first image from the production, and the full press release, below.
Here's the full first image from the film: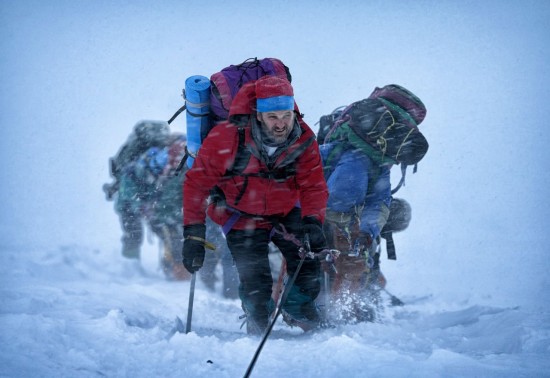 And the press release announcing Everest:
Universal Pictures, Walden Media and Cross Creek Pictures, announce the start of principal photography on the Working Title Films production of EVEREST.  Universal Pictures will release EVEREST in North American theaters in 3D and IMAX 3D on February 27, 2015. Inspired by the incredible events surrounding a treacherous attempt to reach the summit of the world's highest mountain, EVEREST documents the awe-inspiring journey of two different expeditions challenged beyond their limits by one of the fiercest snowstorms ever encountered by mankind.  Their mettle tested by the harshest of elements found on the planet, the climbers will face nearly impossible obstacles as a lifelong obsession becomes a breathtaking struggle for survival. The epic adventure stars Jason Clarke (The Great Gatsby, Zero Dark Thirty), Josh Brolin (True Grit, No Country for Old Men), John Hawkes (Lincoln, Martha Marcy May Marlene) and Jake Gyllenhaal(Source Code, Brokeback Mountain).  They are joined by Martin Henderson (The Ring), Emily Watson (The Book Thief), Michael Kelly (Netflix's House of Cards) and Thomas M. Wright (television's The Bridge).  EVEREST will be directed by Baltasar Kormákur (2 Guns, Contraband) and produced by Working Title's Tim Bevan and Eric Fellner, Cross Creek's Brian Oliver and Tyler Thompson, as well as Nicky Kentish Barnes (About Time). EVEREST is adapted for the screen by Mark Medoff (Children of a Lesser God) and Oscar® winner Simon Beaufoy (Slumdog Millionaire).  Kormákur's creative team includes director of photography Salvatore Totino (The Da Vinci Code), production designer Gary Freeman (upcoming Maleficent), and costume designer Guy Speranza (The World's End).  EVEREST will shoot on location in Nepal on the foothills of Everest, the Italian Alps and at Cinecittà Studios in Rome and Pinewood Studios in the UK. Universal Pictures will distribute the film worldwide.