First Human 'Star Wars Rebels' Character Revealed: Kanan The "Cowboy Jedi"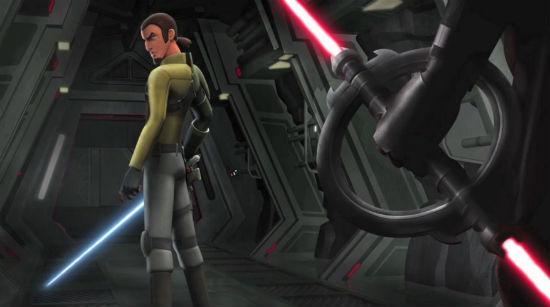 Lucasfilm has just revealed the first human character from their upcoming Disney XD animated show, Star Wars Rebels. That also makes him the first Jedi revealed in the whole new, Disney owned Star Wars Universe. His name is Kanan, and he's described as a "Cowboy Jedi." Freddie Prinze Jr. provides the voice. Check out a reveal video below.
Thanks to USA Today. Here's the introductory video.
Kanan is reportedly the leader of the group Rebels will follow. A Jedi forced underground after Order 66, he's not quite totally polished in the Jedi ways. In fact, he's had to hide those ability so the Empire wouldn't kill him. That seems to change pretty quickly though as the show starts.
"In the original movie, you see a bunch of guys in orange jumpsuits running around and not know who they are," Prinze Jr., told USA Today. "This is the start of it: the sacrifices that those orange jumpsuits made and the families those orange jumpsuits lost and the hatred that you would have for somebody who would literally kill your wife and child because they wanted your property."
Prinze also said this about the character:
He's been forced to shove a massive part of his life under the bed, so to speak. Is he living a lie? At a certain point, the lie kind of becomes the reality. And to suddenly be forced back into your Jedi ways, it'd be a bit of a challenge for him. And pretty awesome, too, when you can see what a Jedi can actually do.
You can read more about the show at those links. Star Wars Rebels will debut on Disney Channel this summer before moving to its regular home on Disney XD in the fall.
I have one major problem with this character. We had been led to believe the Rebellion against the Empire was created by regular people. The Jedi had all but been wiped out. One or two surviving besides Yoda or Obi-Wan makes sense, but if Kanan really is a big part of the whole rebellion, it makes Luke Skywalker feel a little bit less of a "New" hope and more of a "Latest" hope.
What do you think of the character?