Latest 'Muppets Most Wanted' Image Teases A Lavish Wedding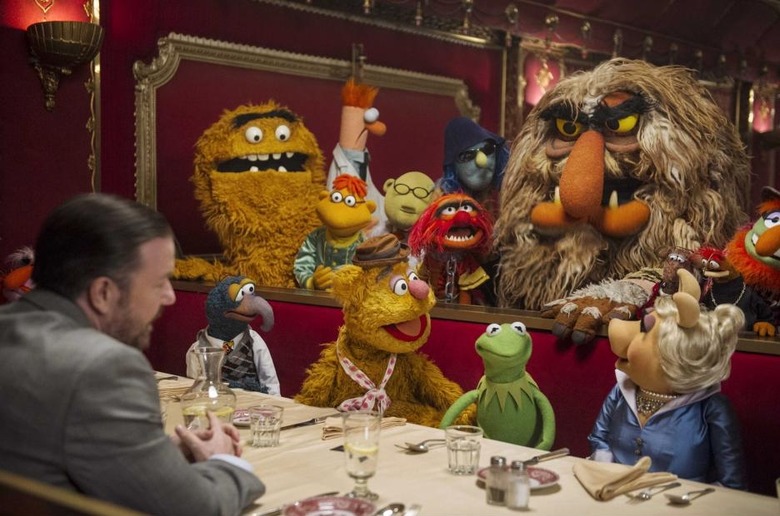 Big things are in store for Kermit and company in Muppets Most Wanted, including an international tour and a continent-spanning caper. But the most exciting event of all may be a wedding, if the latest image is to be believed.
The bride, of course, is Miss Piggy, who's been after Kermit for years. But whether the pig and the frog will actually make it down the aisle seems to be another question. Check out the picture after the jump.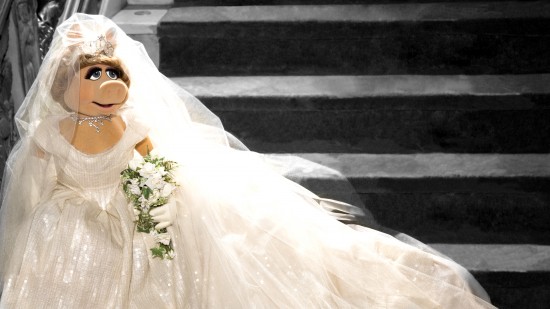 Miss Piggy isn't just fashionable for a Muppet, she's fashionable, period. That's no David's Bridal off-the-rack number she's wearing. It's a custom gown by iconic British designer Vivienne Westwood, whom Miss Piggy says "is fabulous — just like moi."
Westwood explained the design in an interview with Miss Piggy for Harper's Bazaar.
The dress is one of my favorite styles. It's called the Court dress and is inspired by 17th-century English royalty and the court of King Charles II. It has been designed especially for you in a white pearl sequin fabric made from recycled water bottles. It's the perfect choice for a royal sow.
But as perfect as the dress is, it's not a guarantee that her nuptials will go off without a hitch. Asked whether the wedding would actually happen, Miss Piggy would say only, "You'll have to see the movie to find out." Muppets Most Wanted opens March 21.
Disney's "Muppets Most Wanted" takes the entire Muppets gang on a global tour, selling out grand theaters in some of Europe's most exciting destinations, including Berlin, Madrid, Dublin and London. But mayhem follows the Muppets overseas, as they find themselves unwittingly entangled in an international crime caper headed by Constantine—the World's Number One Criminal and a dead ringer for Kermit the Frog—and his dastardly sidekick Dominic, aka Number Two, portrayed by Ricky Gervais. The film stars Tina Fey as Nadya, a feisty prison guard, and Ty Burrell as Interpol agent Jean Pierre Napoleon.