POTD: Channing Tatum Starts Writing 'Magic Mike 2' With Matthew McConaughey Bust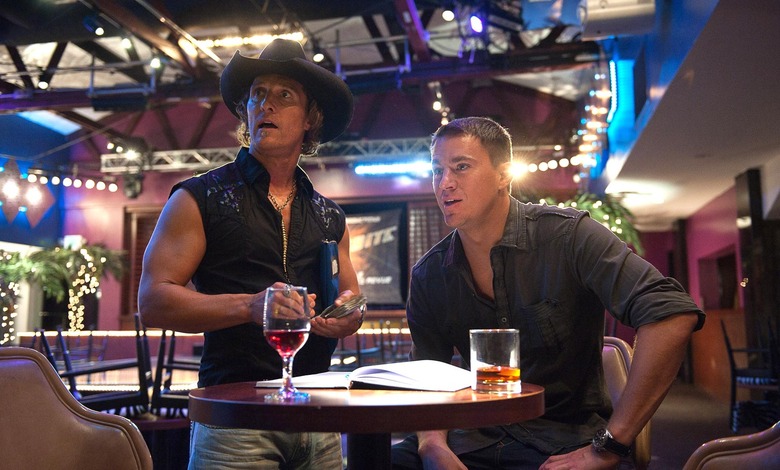 Two years ago, if someone said a sequel to Magic Mike would be in the works, they'd have been laughed at. Before the film's release, most thought Steven Soderbergh's tale of male stripping in Florida was nothing but Striptease with dudes, nothing but ninety minutes of Channing Tatum and Matthew McConaughey dancing with their shirts off.
Then the film was released and it was seen to be an entertaining, provocative look at the American working class. Yes, there was stripping, and lots of shirtless men, but the script, performances and direction made it much more than that. Magic Mike was a surprise hit, grossing almost $115 million in the U.S. Producer/star Channing Tatum said he'd eventually make a sequel.
The film also helped catapult Tatum to superstar status so he's been pretty busy as of late. White House Down, Side Effects, Jupiter Ascending, Foxcatcher and 22 Jump Street are just some of the film's he's shot since. But now, almost two years since the release, Tatum has sat down to write Magic Mike 2. And he announced it in the most peculiar of ways.
Tatum tweeted this to announce he'd began to write the film:
What better way to start writing #MagicMike2 than with my old friend Dallas? #runatribe pic.twitter.com/RalS3nQfro

— Channing Tatum (@channingtatum) February 10, 2014
Yup, that's Tatum staring at a bust of Matthew McConaughey. Does that confirm McConaughey's character, Dallas, will be back for the sequel? Not totally, but it seems like a good bet. The aim here, I think, is just to convey some of the awkwardness and charisma Tatum is trying to put in the film.
The bigger question here is who will direct the film. Early rumors suggested Tatum himself might use this to work his way into directing, but that's far from confirmed. Plus Soderbergh is retired, and likely not coming out of that for a sequel.
What do you think of the announcement?