Images From 'Walt Before Mickey' Featuring Thomas Ian Nicholas And Jon Heder As Walt And Roy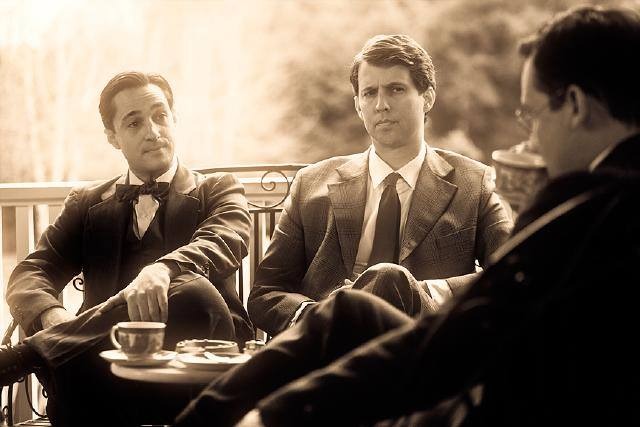 We may receive a commission on purchases made from links.
Most of the time we hear about films well before production. Other times, we hear about them when cameras are already rolling. That's the case with Walt Before Mickey, an independent feature directed by Ari Taub. It's based on a book by Timothy S. Susanin that chronicles the life of Walt Disney from 1919-1928, which is the year Mickey Mouse debuted.
Here are some of the big names in the cast. Thomas Ian Nicholas, best know for his work in the American Pie movies, is playing Walt. His brother Roy is being played by Napoleon Dynamite's Jon Heder. Disney alum David Henrie plays an animator and Full House's Jodie Sweetin is Charlotte Disney. Below, read more about the film and see a bunch of images from the shoot, which is currently happening in Deland, Florida.
Here are a bunch of images from the movie, thanks to the well-kept up Facebook page. There are much more there.
The page also promises a Summer 2014 release, so we'll keep an eye out for that.
Here's the description of the book from its Amazon page. It likely gives a good idea of what Taub is planning with the film
For ten years before the creation of Mickey Mouse, Walt Disney struggled with, failed at, and eventually mastered the art and business of animation. Most biographies of his career begin in 1928, when Steamboat Willie was released. That first Disney Studio cartoon with synchronized sound made its main character–Mickey Mouse-an icon for generations.
But Steamboat Willie was neither Disney's first cartoon nor Mickey Mouse's first appearance. Prior to this groundbreaking achievement, Walt Disney worked in a variety of venues and studios, refining what would become known as the Disney style. In Walt Before Mickey, 1919-1928, Timothy Susanin creates a portrait of the artist from age seventeen to the cusp of his international renown.
After serving in the Red Cross in France after World War I, Walt Disney worked for advertising and commercial art in Kansas City. Walt used these experiences to create four studios-Kaycee Studios, Laugh-O-gram Films, Disney Brothers Studio, and Walt Disney Studio. Using company documents, private correspondence between Walt and his brother Roy, contemporary newspaper accounts, and new interviews with Disney's associates, Susanin traces Disney's path. The author shows Disney to be a complicated, resourceful man, especially during his early career. Walt Before Mickey, a critical biography of a man at a crucial juncture, provides the "missing decade" that started Walt Disney's career and gave him the skills to become a name known worldwide.
Gotta say, I'm intrigued. Consider Walt Before Mickey on our radar. What do you think?