'Ernest & Celestine' Trailer: Mouse Meets Bear In Oscar-Nominated Animation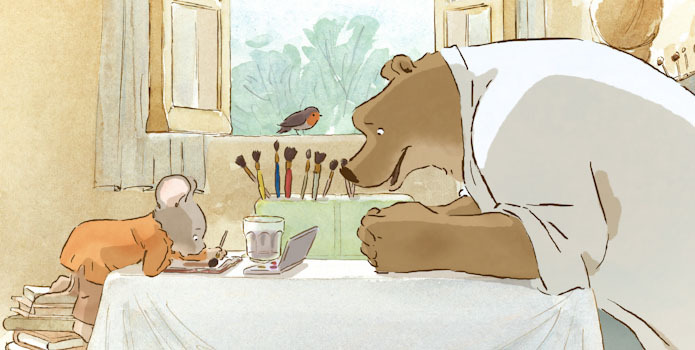 Of the five nominees up for the Best Animated Feature Oscar this year, Ernest & Celestine is likely the least known. But it looks every bit as worthwhile as the other contenders, with a pleasingly old-fashioned animation style that stands in stark contrast to the slick CG works by Disney, Illumination, and DreamWorks.
This new trailer isn't the first look we've had at the interspecies buddy comedy, as a French-language promo hit all the way back in 2012. But it's a fresh cut, with English dubbing and everything. Mackenzie Foy (The Conjuring) voices Celestine the mouse, and Forest Whitaker voices Ernest the bear. Check it out after the jump.
The irresistibly adorable Ernest & Celestine opens February 28 in the U.S. Stéphane Aubier, Vincent Patar, and Benjamin Renner directed, and Lauren Bacall, Paul Giamatti, William H. Macy, Jeffrey Wright, Megan Mullally, and Nick Offerman lend their voices to the English-dubbed version.
Deep below snowy, cobblestone streets, tucked away in networks of winding subterranean tunnels, lives a civilization of hardworking mice, terrified of the bears who live above ground. Unlike her fellow mice, Celestine is an artist and a dreamer—and when she nearly ends up as breakfast for ursine troubadour Ernest, the two form an unlikely bond. But it isn't long before their friendship is put on trial by their respective bear-fearing and mice-eating communities. Ernest & Celestine joyfully leaps across genres and influences to capture the kinetic, limitless possibilities of animated storytelling. Like a gorgeous watercolor painting brought to life, a constantly shifting pastel color palette bursts and drips across the screen, while wonderful storytelling and brilliant comic timing draw up influences as varied as Buster Keaton, Bugs Bunny, and the outlaw romanticism of Bonnie and Clyde.