Odd City To Release Official 'True Romance' Poster Friday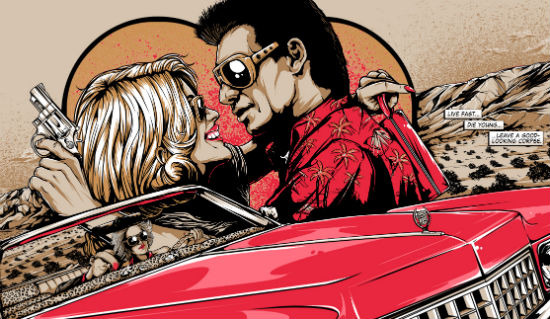 When people talk about their favorite Quentin Tarantino movies, some ask "Does True Romance count?" Directed by Tony Scott, True Romance was one of Tarantino's earliest screenplays and though he didn't direct it, it totally feels like him. The tale of a slacker named Clarence (Christian Slater) and the love of his life Alabama (Patricia Arquette), is exciting, surprising, violent and hilarious. It's filled with passion, pop culture, realism and an almost unbelievable cast of supporting characters.
The film celebrated its 20th anniversary last year but as that milestone seemed to slip by many people, this year it's having a bit of a renaissance. There's a huge celebration happening in Los Angeles and Odd City Entertainment has an officially licensed poster coming online Friday. Check it out below.
Here are the regular and variant editions of True Romance by artist Matt Ryan Tobin:
True Romance by Matt Ryan Tobin is a 36"x24" limited edition screen print in both regular (left, $45, edition of 95) and variant (right, $65, edition of 35) editions. It will go on sale at the Odd City Entertainment store at a random time on Friday February 7. Here's what the artist said about the challenge:
When Odd City approached me to create a poster for True Romance, my jaw hit the floor. To say I was flattered is an understatement. I fell in love with this film from the first time I viewed it on VHS.... A rental copy, no less. It's a film that has always stuck with me – so much so that, at one point, I was seconds away from a past girlfriend and I getting matching "Clarence" and "Alabama" cupid tattoos to commemorate the film. This movie is so vivid and colorful in its writing, characters and film style. I really wanted to give my all in complimenting the film, by approaching the artwork in the same way.