Exclusive: Scott Waugh Talks 'Need For Speed' 3D Conversion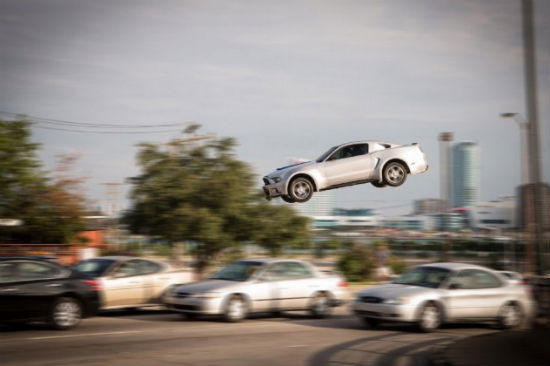 It began with a simple tweet. "Need For Speed will now be released in 3D." Like that, the talk  began to spread across the Internet. The Aaron Paul video game adaptation was set for release in a few mere weeks and now someone made the decision to convert the film to 3D?
Instantly the frightening associations began to films such as Clash of the Titans and The Last Airbender, which were also given last minute 3D conversions to suck a few extra dollars out of the audience. They're post-conversion horror stories with awful visuals. But everything we'd heard about Need For Speed suggested it didn't need such a thing. We'd heard it was, by all accounts, a fun action movie. So why the decision to convert to 3D so late in the game?
We got director Scott Waugh on the phone. As expected, the decision wasn't as last minute it it seems. In fact, the decision to covert to 3D was made in September and the only reason we're hearing about it now, he says, is they didn't want to milk the 3D gimmick. Waugh wants the film to be seen as a throwback to action films of old, not a CG video game. Read his quotes below.
Back in September, Waugh was finishing a rough cut of Need for Speed and was told by a friend his style of shooting really lent itself to 3D. They suggested a post-conversion but Waugh was against it. "I've never really been a 3D fan," he said. "That's not my type of movie. I like real movies with no CG."
Still the friend offered a free test so the director allowed two companies to do 90-second conversions. When he saw the conversion by Stereo D, the company that converted The Avengers, Titanic and DreamWorks executive Steven Spielberg's Jurassic Park, he was suitably impressed. "I left there with my jaw on the floor," Waugh said. "I called [Spielberg] and said 'I'm blown away.' I don't think anyone has ever seen a movie like this in 3D because its all real. It actually exemplified, in 3D, how real everything is. You are completely immersed in these car races."
Waugh explained he never thought about shooting Need for Speed in 3D because it simply wasn't possible. "My shooting style is almost literally impossible to shoot in 3D," he said. "I shoot with 27 cameras, they're mounted everywhere, can you imagine trying to parallax 27 cameras for 3D?"
However, after seeing the conversion and realizing the company only needed 12 weeks to do the full job, he and Spielberg decided to pull the trigger. Since then, Waugh has made weekly visits to Stereo D to do reviews on the conversion. He's "heavily involved" in the process.
When asked about other movies that have done 3D conversions, Waugh is quick to say box office had nothing to do with it. "It was not a financial decision at all," he said. "It was what is best for this movie creatively. No one has ever seen a movie like this in 3D and the proof is when you see it."
As for why we're just hearing about this now, it's because Waugh didn't want Need for Speed to feel like something it's not. Though it's based on a video game, he doesn't want that to take away from his interpretation. "We kept it very quiet because we didn't want this movie to feel like 'GO SEE NEED FOR SPEED IN 3D!" That's not the movie we were making. We're making a real, traditional, throwback movie to the '60s or '70s so we didn't want that marketing gimmick. That's not what the movie is about."
Need for Speed, in 3D and 2D, opens March 14.