'The Grand Budapest Hotel' Clip: Bill Murray Takes Ralph Fiennes For A Ride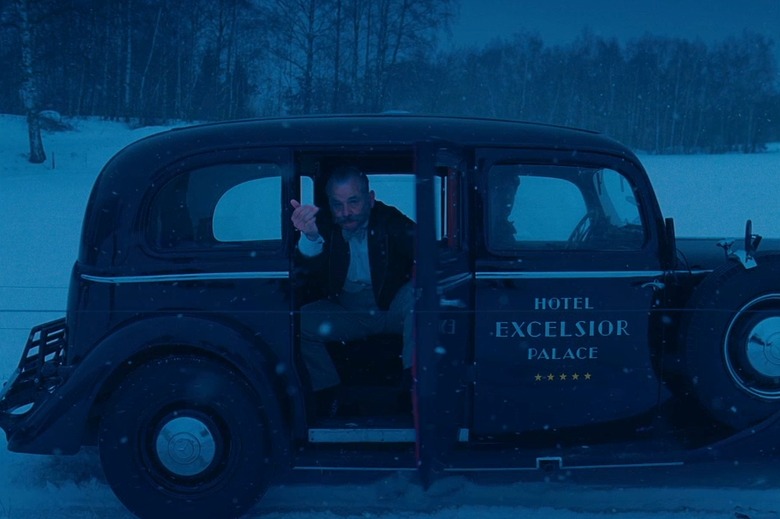 I don't care who you are — if Bill Murray skids his car to a stop right in front of you and demands that you "get in," just do as the guy says. That goes double if you happen to be a hotel concierge and a lobby boy on the run, like the ones played by Ralph Fiennes and Tony Revolori in The Grand Budapest Hotel.
That's the basic gist of this latest clip from the movie, which looks super Wes Anderson-y in all the right ways: pretty and precise, with a sly sense of humor. Hit the jump to see it for yourself.
Set in the tumultuous time between World War I and World War II, The Grand Budapest Hotel is brimming with drama and intrigue, all filtered through that lovely Anderson touch. There are stolen paintings, a family fortune, a suspicious death, and a blossoming teen romance. It's also stuffed with a great cast that includes Willem Dafoe, Jeff Goldblum, Tilda Swinton, Jude Law, Jason Schwartzman, Owen Wilson, Adrien Brody, Edward Norton, and Saoirse Ronan.
The film will premiere at the Berlin Film Festival this week before landing in U.S. theaters on March 7.
THE GRAND BUDAPEST HOTEL recounts the adventures of Gustave H, a legendary concierge at a famous European hotel between the wars, and Zero Moustafa, the lobby boy who becomes his most trusted friend. The story involves the theft and recovery of a priceless Renaissance painting and the battle for an enormous family fortune—all against the backdrop of a suddenly and dramatically changing Continent. Starring Ralph Fiennes, F. Murray Abraham, Mathieu Amalric, Adrien Brody, Willem Dafoe, Jeff Goldblum, Jude Law, Harvey Keitel, Bill Murray, Edward Norton, Saoirse Ronan, Léa Seydoux, Jason Schwartzman, Tilda Swinton, Tom Wilkinson and Owen Wilson.