Check Out Six New Propaganda Images From 'Star Wars Rebels'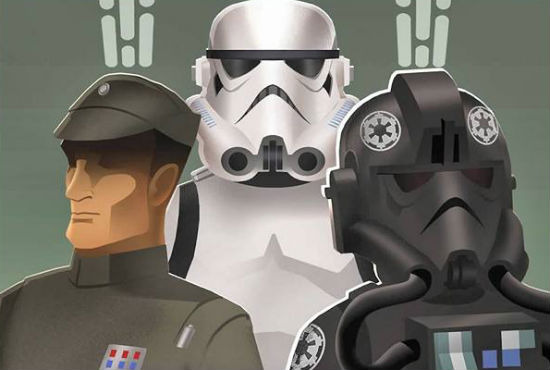 I have a recommendation for all you Star Wars fans out there. As you patiently wait for news of new movies, fill the time by looking at the awesome way Disney and Lucasfilm are promoting the upcoming cartoon series Star Wars Rebels. For the past few months, slivers of information have been continually released about the project, each giving fans just enough to enjoy and digest without spoiling anything big.
We know the identity of the villain, we know a new droid, we've seen concept art and much more. Now, six images promoting Imperial propaganda have been released, each showing ways the Empire is recruiting people to their cause between the events of Star Wars Episode III: Revenge of the Sith and Star Wars Episode IV: A New Hope. Check them out below.
Here are the six images, courtesy of Empire Online, IGN, TheForce.net, Mashable, Omelete and ET Online (via Jedi News).
Here's the info on these images courtesy of IGN:
This week, Lucasfilm is doing a special mailing to 2500 lucky individuals around the world, who will be receiving a special gift from the Empire. The contents include a set of six limited edition cards that represent the world of Star Wars Rebels – original illustrations from Amy Beth Christenson, a member of the Lucasfilm Animation art department working on Star Wars Rebels.
I think it's pretty awesome how the rise of the Empire, and the resulting rebellion, are the center of this new show, which will debut on Disney XD in the Fall. It's one of those important but under explored times in the Star Wars universe.
What do you think of the images?