Leonardo DiCaprio And Jonah Hill Reteaming For 1996 Olympic Bombing Drama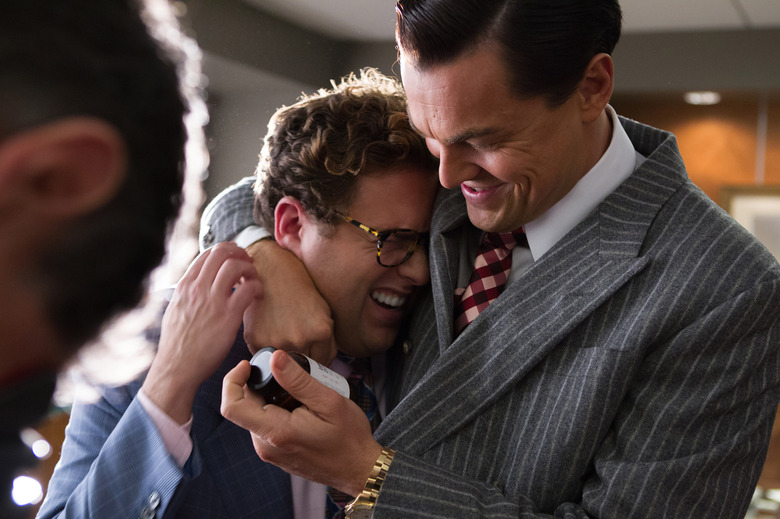 Leonardo DiCaprio and Jonah Hill's last team-up was a big success on a professional level, resulting in Oscar nominations for both, and by all accounts the two hit it off on a personal level as well. Now they're eager to reunite, this time to tell the story of Richard Jewell.
Fox has acquired the rights to Marie Brenner's 1997 Vanity Fair article "The Ballad of Richard Jewell," which followed the security guard who discovered a pipe bomb at the 1996 Olympics in Atlanta. He was initially hailed as a hero, and then (incorrectly) vilified as a suspect. More details on the project after the jump.
The controversy surrounding Jewell in 1996 was not the media's finest hour, to put it mildly. At first, he was called a hero for finding the bomb and clearing the area before the explosion to minimize the damage. However, a subsequent report in The Atlanta Journal-Constitution indicated that Jewell was being investigated by the FBI as a possible suspect, since he supposedly fit the criminal profile of a "lone bomber."
Jewell was savaged in the press, portrayed as a loser who'd planted the bomb himself to make himself look good. The incident serves as a cautionary tale of trial by media. Leaks, rumors, and unfounded accusations were enough to ruin Jewell's life even though he had done nothing wrong. He was eventually cleared by the FBI a few months after the bombing.
The film pushes Hill further away from the comedic roles that first made him famous. His transition into dramatic acting has been remarkably well received. His Academy Award nomination for The Wolf of Wall Street is his second; he also previously earned a nomination for his first prominent "serious" role in Moneyball.
Hill will continue to skip back and forth across the comedy-drama spectrum in the near future. He'll be heard as the voice of Green Lantern in The Lego Movie this month, and will star in 22 Jump Street with Channing Tatum this summer. He recently wrapped True Story, a drama in which he plays a disgraced journalist whose identity is appropriated by a suspected killer (James Franco).
DiCaprio does not have any releases coming in the immediate future, but has been circling a few projects including the Jo Nesbø-adapted thriller Blood in the Snow and a Woodrow Wilson biopic.