Philip Seymour Hoffman Had One Major 'Hunger Games' Scene Left To Shoot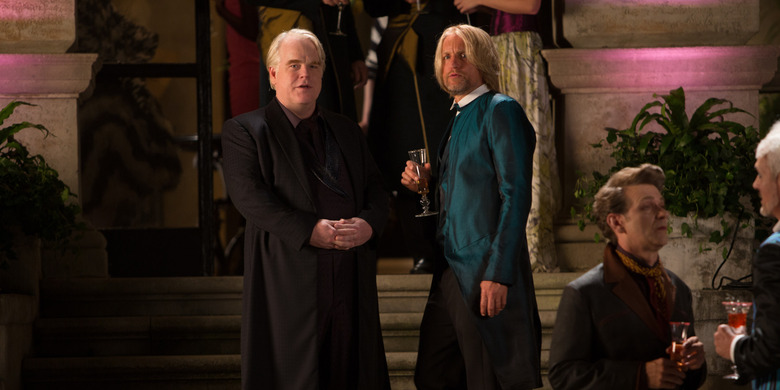 On Monday morning, we reported Philip Seymour Hoffman had shot enough of his The Hunger Games: Mockingjay role before his passing that the release dates for the two-parter have not shifted. But he still had seven days of filming left on Part 2 and, unsurprisingly, that's leading to some complications.
According to insiders at the studio, the late Hoffman still had one major scene left to shoot when he died. The filmmakers are now scrambling to work around his absence, possibly by digitally inserting him into some scenes. More details after the jump.
The individual acknowledged that although everyone at Lionsgate was "extraordinarily sad" to hear of Hoffman's death, "as it relates to production, it's going to have no impact." They added, "His performances in both [remaining] movies will be up to the best of his craft. We feel it will be a good tribute to him."
Hoffman had an important but relatively minor role in the last installment, The Hunger Games: Catching Fire, as Head Gamemaker Plutarch Heavensbee. The character features more prominently in the sequels.
The Hunger Games filmmakers have not said how exactly they will deal with Hoffman's absence, but a source has a few suggestions. "You can do digital things, you can have conversations where you're not focusing on him but the people he's talking to," they explained.
Effects supervisor Rob Legato, who is not familiar with Lionsgate's plans for The Hunger Games, pointed out that technology could also be used to recreate Hoffman's image. "I won't say you could generate a Philip Seymour Hoffman with all the acting ability, but you could certainly replicate him for a shot or two," he said.
Digitally replicated or not, The Hunger Games: Mockingjay – Part 2 may very well be the last film ever to feature a performance by Hoffman. He was in two films that hit Sundance last month, John Slattery's God's Pocket and Anton Corbijn's A Most Wanted Man. Neither has a U.S. release date locked in yet.
The Hunger Games: Mockingjay – Part 1 opens November 21 of this year, followed by Part 2 on November 20, 2015. Francis Lawrence directs both installments.