'Justice League: War' To Begin DC Animated Film Continuity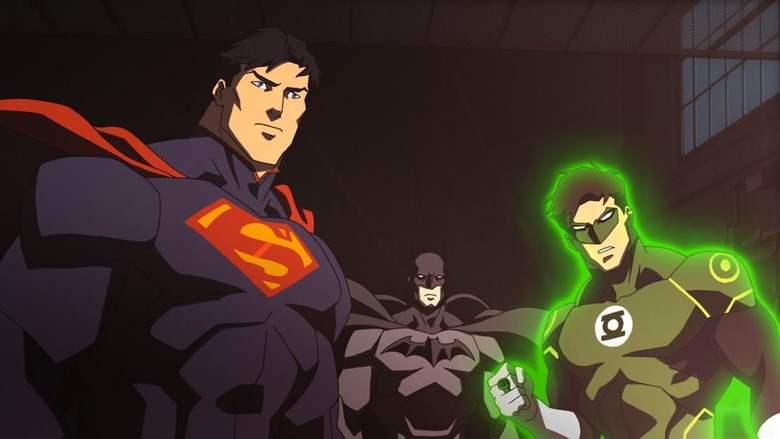 When Marvel made $200 million in three days with The Avengers, Hollywood's view of superheroes changed forever. It was the culmination of four years of films called the "Marvel Cinematic Universe," an ambitious gamble to link storylines over multiple films. DC quickly rebooted Superman in Man of Steel to mimic Marvel's success, with Fox and Sony each following suit with their respective hero franchises. The DC Cinematic Universe has fans cautiously excited, but we won't see the second installment until 2016's Batman vs. Superman.
While comic fans patiently wait to see Superman tangle with Batman, Lex Luthor and Wonder Woman on the big screen, WB's home video division is happy to fill the void. With this week's digital and Blu-ray release of the DC Universe animated original movie Justice League: War, the DC Animated Universe will begin develop one full sense of continuity. 
Comic Book Resources spoke to James Tucker, producer of Justice League: War among other DC projects, who said the following:
This will definitely be the first salvo in doing new movies that are in continuity with each other. Our next movie's going to be 'Son of Batman,' and that Batman will be the same Batman that you see in 'Justice League: War.' Basically, we'll have two concurrent series of Justice League movies and Batman movies, and they'll be in continuity with each other. So it's kind of world-building.
In reality, this is a long time coming for the DC Animated Universe. Justice League: War is WB and DC's 18th film since 2007.  Moving ahead, the plan is to release three DC Animated movies each year. Two will be in this continuity and the third will be standalone. This year, the standalone is Batman: Assault on Arkham, based on the popular video game series. The in-continuity films are Justice League: War and Son of Batman.
However, while the stories so far have their roots in the New 52, Justice League: War director Jay Olivia admitted that doesn't have to be the case:
We can do original content, we can do New 52 stuff. I still want to do 'Gotham by Gaslight.' 'Red Son' would be a great one to do as a one-off.
Actors who lend their voices to Justice League: War will reprise the characters moving ahead as well. So expect to hear Jason O'Mara as Batman, Alan Tudyk as Superman, Michelle Monaghan as Wonder Woman, Shemar Moore as Cyborg, Sean Astin as Shazam, Justin Kirk as Green Lantern and Christopher Gorham as The Flash for a while.
Is DC's animated film beating the big screen to the punch a surprise? Are you more inclined to watch the films knowing this?