Aaron Eckhart And Miles Teller Join Martin Scorsese-Produced 'Bleed For This'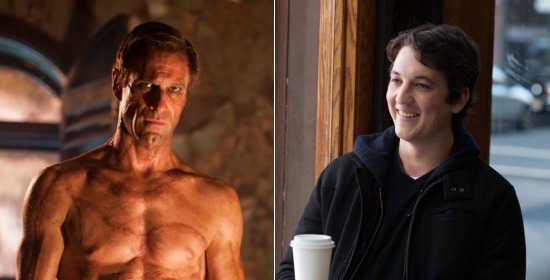 The 2014 box office has not been kind so far to Miles Teller and Aaron Eckhart. Teller's That Awkward Moment had a disappointing opening this past weekend, while Eckhart's I, Frankenstein completely bombed the week before that. But perhaps they'll fare better when they join forces, with a bit of help from executive producer Martin Scorsese.
The pair are attached to star in Bleed for This, a biopic of boxer Vinny Pazienza being written and directed by Ben Younger (Boiler Room, Prime). Teller will star as the athlete, while Eckhart will play his trainer. Learn more about Pazienza's remarkable story after the jump.
The premise should hit close to home for Teller, who was himself involved in a car crash during college and bears scars from the incident to this day. Interestingly, an automobile accident also featured prominently in Teller's big screen debut Rabbit Hole, which starred Eckhart.
Although That Awkward Moment got Teller's year off to a rocky start, things should pick up for him in the next several months. His drummer drama Whiplash won the Grand Jury Prize at Sundance and was scooped up for U.S. distribution by Sony Pictures Classics. He also has Divergent due out in March, and the comedies Two Night Stand and Get a Job later this year.
Eckhart's upcoming gigs include the thriller Incarnate and the Olympus Has Fallen sequel London Has Fallen. Despite well received performances in films like In the Company of Men, Thank You for Smoking, The Dark Knight, and Rabbit Hole, he's lately struggled to find projects worthy of his talent. Let's hope Bleed for This can help turn things around.