'Muppets Most Wanted' Super Bowl Spot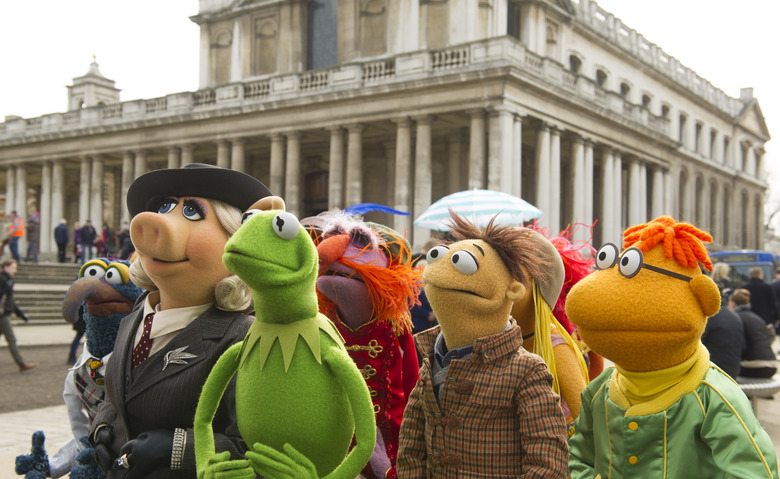 Muppets Most Wanted will whisk Kermit and his pals off to Europe next month, but first it's making a pit stop in the U.S. for Super Bowl Sunday. The new TV spot has everything you could ask for: the whole gang, plus glimpses of human stars Tina Fey and Ricky Gervais, cameos from Danny Trejo and Tom Hiddleston, and emoticon-filled tweets from people who've seen some of the other trailers for the movie.
Check it out, along with a cute Toyota spot featuring Terry Crews, after the jump.
The social media gag was funnier the first time Disney did it during the Globes, but I still laughed. How can you not "aww" along with the crowd at that broken heart emoticon?
The new film has the Muppets jetting off to Europe for a big international tour, only to get mixed up with law enforcement when they run into a criminal named Constantine who happens to be the spitting image of Kermit. Gervais plays Constantine's sidekick, Fey a prison guard, and Ty Burrell an extremely French Interpol agent.
Muppets Most Wanted lands March 21. James Bobin directs once again, from a script he wrote with Nicholas Stoller. Oscar winner Bret McKenzie returns to provide the music.
Disney's "Muppets Most Wanted" takes the entire Muppets gang on a global tour, selling out grand theaters in some of Europe's most exciting destinations, including Berlin, Madrid, Dublin and London. But mayhem follows the Muppets overseas, as they find themselves unwittingly entangled in an international crime caper headed by Constantine—the World's Number One Criminal and a dead ringer for Kermit the Frog—and his dastardly sidekick Dominic, aka Number Two, portrayed by Ricky Gervais. The film stars Tina Fey as Nadya, a feisty prison guard, and Ty Burrell as Interpol agent Jean Pierre Napoleon.