Ian Ziering And Tara Reid Return For 'Sharknado 2: The Second One'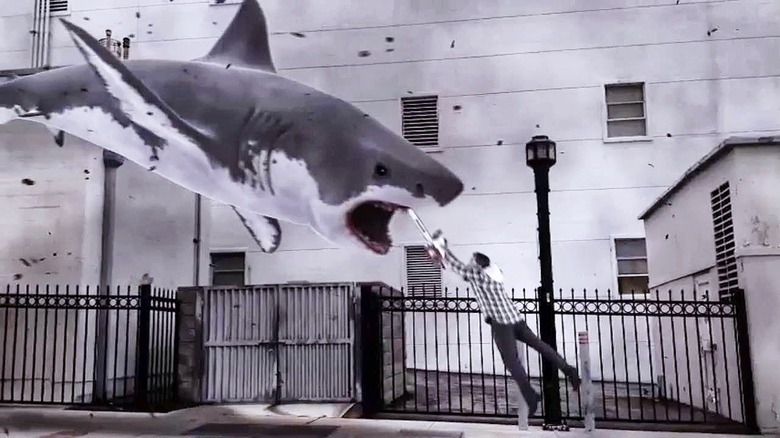 What do you suppose the odds are of seeing a Sharknado in the first place? And what do you think are the odds of having to survive a second one just a few months later?
If you're Ian Ziering or Tara Red, the answer, it turns out, is "pretty damn high." The pair are set to reprise their roles for Sharknado 2: The Second One, which will once again be directed by Anthony C. Ferrante with a screenplay by Thunder Levin. What's different this time around is that the action will take place in New York City. Hit the jump for more details.
There's no word yet on whether Sharknado's other surviving characters, including Matt (Chuck Shepherd) and Nova (Cassie Scerbo) will also return. But we can probably expect some high-profile stunt casting, as Mike Fenton and Ann Frederick have been hired to supervise cameo casting.
In a pun-filled statement, Syfy expressed their excitement about the new film. "Sharknado was an extraordinary 'perfect storm' which captured the attention of movie fans across the globe," said Thomas Vitale, vice president of programming. "By reassembling the creative team – and dropping sharks onto New York's iconic sites – we're unleashing yet another 'fin' wave of shark-mania."
The Asylum COO Paul Bales added, "Can lightning strike twice? I don't know, but it's a scientific fact that you're more likely to be killed by lightning than by a shark. This film will have lightning and sharks, so that's got to count for something." Sounds like they're giving this movie exactly the level of seriousness it deserves.
Shooting will begin in New York February 13. So if you happen to see a Great White float by while you're out to dinner with your sweetie for Valentine's Day, don't panic — it's probably just the Sharknado shoot and not an actual Sharknado. Probably.
Sharknado 2: The Second One will premiere on Syfy this July.