'Draft Day' Super Bowl Spot: Kevin Costner Kicks Off The 2014 NFL Season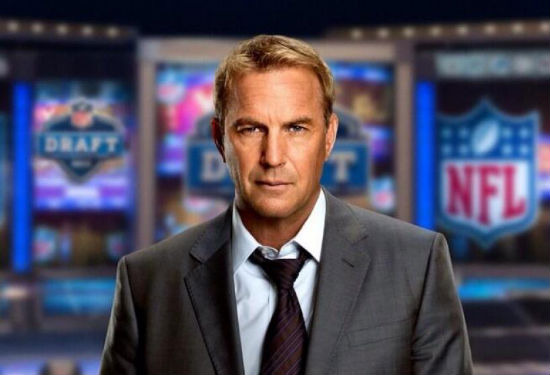 If ever a movie was made with the sole purpose to be sold at the Super Bowl, it's Ivan Reitman's Draft Day. The film opens April 11 and stars Kevin Costner as the GM of the Cleveland Browns, a team in desperate need of a kick in the ass. And that's exactly what they do at the 2014 NFL Draft, the event where the 32 NFL teams select the best college players in the world. The film has the full cooperation of the NFL, features cameos galore, and was actually filmed at last year's draft, giving the whole thing an eerie sense of reality.
Written by Scott Rothman and Rajiv Joseph, Draft Day was on the top of The Black List a few years back and for good reason. It blends the drama and intensity of NFL with a heartwarming story of a man facing impossible odds. The only other place NFL superfans and non-fans really crossover is during the Super Bowl, so check out the spot below.
Thanks to Summit for this spot, which will air early in the game (possibly during the preshow):
As a massive football fan, I was incredibly excited to see Draft Day later this year but cancelled all plans early this week to catch a sneak peak. I was not disappointed. The film is Ivan Reitman's best in over 20 years, capturing the tension and passion NFL fans feel with a straightforward, relatable story that takes place over one full day. It jumps between NFL cities, using all the appropriate logos and lingo, and has just a kick-ass, cheer-in-the-theater finale. Yes, there's a little melodrama in the middle and a few other minor issues, but if you are excited by that above commercial, continue to get excited.
The best endorsement I can give the film? After seeing it, my non-football fan girlfriend, wanted to learn more about the draft, so we went on YouTube and Netflix to see some documentaries. How cool is that?
Draft Day, starring Kevin Costner, Jennifer Garner, Denis Leary, Frank Langella, Sam Elliot, Sean Combs, Terry Crews, Ellen Burstyn and Chadwick Boseman, opens April 11.