'The Two Faces Of January' Trailer: Viggo Mortensen Coerces Oscar Isaac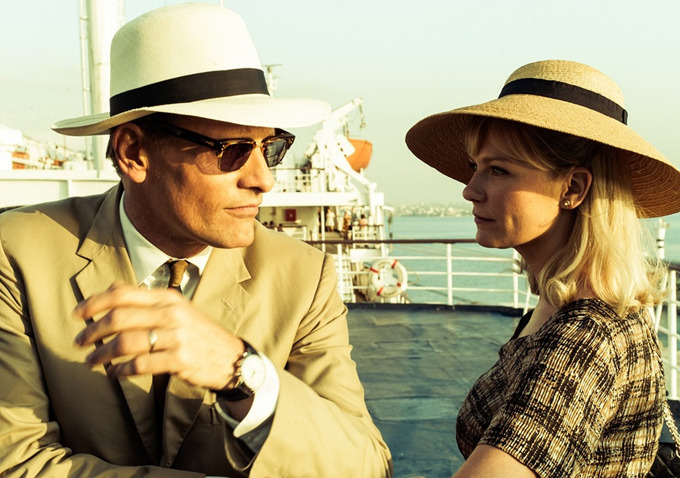 If Inside Llewyn Davis whet your appetite to see a lot more from actor Oscar Isaac, the new Patricia Highsmith adaptation The Two Faces of January is hitting at just the right time. The film stars Isaac, Viggo Mortensen, and Kirsten Dunst in a story about a vacationing couple, not exactly squeaky lean folk, who fall into a business relationship with a scamming "tour guide." When the couple gets into some serious trouble they call upon the guide for less-than-legal assistance.
Highsmith wrote many of her prime thrillers in the '50s and '60s, and like another well-known Highsmith adaptation The Talented Mr. Ripley, this film preserves the time period in which the novel was written. In this case, the setting is 1962, which gives director Hossein Amini (who wrote Drive) plenty of opportunity to photograph his attractive cast in great period costumes. Check out a trailer below, which also acts as a chance to see Mortensen in a relatively rare turn as an out and out heavy.
The Two Faces of January is playing the Berlin Film Festival, and opens in the UK on May 16. It doesn't have US distribution yet.
In 1962, the charismatic Chester MacFarland (Viggo Mortensen) and his alluring younger wife Colette (Kirsten Dunst), arrive in Athens by boat via the Corinthian Canal. While sightseeing at the Acropolis they encounter Rydal (Oscar Isaac), a young, Greek-speaking American who is working as a tour guide, scamming tourists on the side. Drawn to Colette's beauty and impressed by Chester's wealth and sophistication, Rydal gladly accepts their invitation to dinner. However, all is not as it seems with the MacFarlands and Chester's affable exterior hides darker secrets.