Rumor: Josh Gad Up For The Thing In Josh Trank's 'Fantastic Four' [Updated]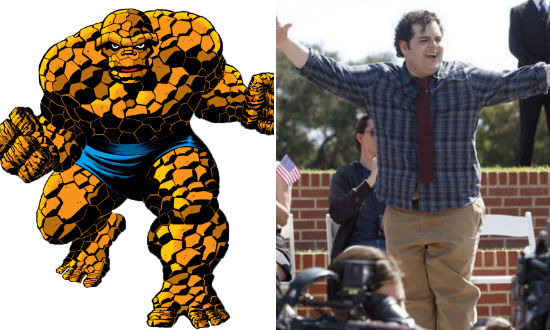 Josh Trank's Fantastic Four reboot has got to be the most mysterious of all the big 2015 releases. Even with a film as secret as Star Wars Episode VII we hear rumblings. Trank's film, however, which is likely a major part of Fox's Marvel plans, has a release date and little announced beyond that. Rumors have flown about actors such as Miles Teller, Michael B. Jordan and Allison Williams being up for Mr. Fantastic, Johnny and Sue Storm respectively, but none are confirmed. Now the biggest member of the team can join the rumor mill, too.
Movies.com reports Josh Gad is the number-one choice for the role of Ben Grimm, aka The Thing.
Update: Trank denies that there's any truth here, and Gad has weighed in with some jokes as well.
According to Movies.com, this rumor "comes from within casting circles close to the film." Nothing is official, but they point out that Gad is age-appropriate in relation to the other actors who have been mentioned for the rest of the team.
Here's what we do know about Josh Trank's film. It's scheduled for release June 19, 2015 and has Simon Kinberg and Matthew Vaughn on board as producers. The former also did a pass on Jeremy Slater's script, as did a few others. Actors are testing in the near future with filming to take place in Louisiana. Kinberg also plans to tie it in with Fox's X-Men universe in some way, but that's unconfirmed.
Coming off the huge success of Frozen, Gad will next appear in Wish I Was Here, will be playing Sam Kinison and is writing a Gilligan's Island movie among other things. With a schedule that busy, who knows if the actor could even fit a film this huge into his schedule. I'd imagine not. That doesn't mean he wasn't asked or mentioned though. He's probably a first choice that can't make it work. We'll have to wait and see.
With a June 2015 release date planned, production on the film will be starting very soon, which means official casting announcements could happen any day now. I think Gad is a fantastic choice to play Grimm, if it works out.
Update: Josh Trank says there's no truth here:
@devincf first i'm hearing of this... it's not true.

— Josh Trank (@josh_trank) January 28, 2014
Gad added:
Everyone please calm down. There is no truth to rumor of me playing Grimm . Besides, I'm too busy prepping to play a young Luke Skywalker.

— Josh Gad (@joshgad) January 28, 2014