"Everything Is Awesome" About These Nine Clips From 'The Lego Movie'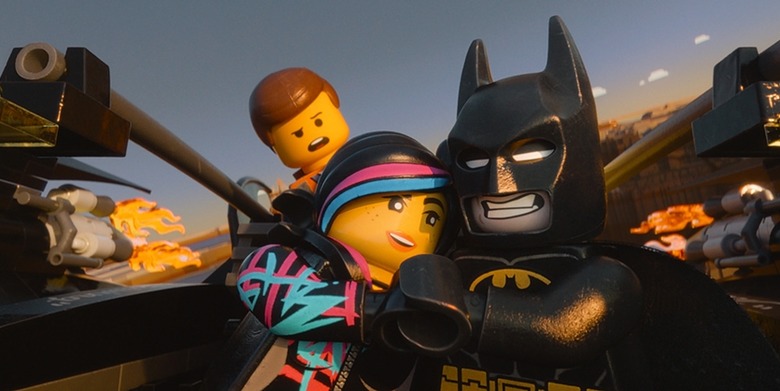 In the wrong hands, The Lego Movie could've been a lazy, forgettable kids' film with no obvious purpose other than pushing more plastic bricks. But as directed by Phil Lord and Chris Miller, it's looking like a very early contender for the year's best animated film — funny, smart, energetic, and far more original than we have any reason to expect a film based on a toy would be.
With every new bit of marketing that rolls out, it's looking more and more promising. Today, we have nine new clips from the film totaling about eight minutes of footage. Chris Pratt leads the voice cast as Emmet, an extraordinarily ordinary minifig who is accidentally drafted to lead a revolution against the evil President Business (Will Ferrell). Watch all the videos after the jump.
At this point, Lord and Miller practically specialize in things that sound groanworthy on paper, but look magical onscreen. Before I actually sat down and watched them, I wouldn't have thought there was much promise in a Cloudy With a Chance of Meatballs adaptation or a 21 Jump Street reboot, either. But not only were they pretty great, Lord and Miller liked working on the latter so much that they've returned for the sequel, due out this summer.
2014 is also shaping up to be a pretty great year for Pratt, between The Lego Movie and this summer's Guardians of the Galaxy. There aren't many actors who can boast that they became part of the Marvel family and hung out with the Justice League in the space of twelve months — even if, okay, the Justice League we're talking about here is a tiny, plastic version.
The Lego Movie opens in 3D on February 7. Elizabeth Banks, Alison Brie, Will Arnett, and Liam Neeson are also among the voice cast.
The original 3D computer animated story follows Emmet, an ordinary, rules-following, perfectly average LEGO minifigure who is mistakenly identified as the most extraordinary person and the key to saving the world. He is drafted into a fellowship of strangers on an epic quest to stop an evil tyrant, a journey for which Emmet is hopelessly and hilariously underprepared.