'A Long Way Down' Trailer: Nick Hornby Has Aaron Paul Contemplating Suicide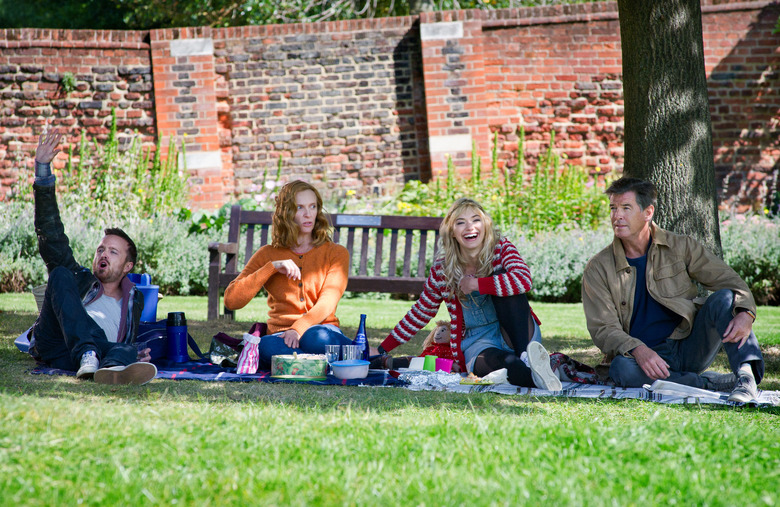 Nick Hornby's books have long been popular with filmmakers. To date, his bibliography has inspired Stephen Frears' High Fidelity, two Fever Pitch movies, one About a Boy film, one failed About a Boy TV show, and one upcoming About a Boy TV show. Now the latest of his novels to get adapted is A Long Way Down, a heartwarming tale that begins with four attempted suicides.
Adapted by Jack Thorne and directed by Pascal Chaumeil, the dramedy follows four very different people who meet by chance when they each decide to commit suicide by jumping off of a London skyscraper on New Year's Eve. As they get to talking, however, they form a bond and ultimately make a pact to live, at least for a little while longer.
The group includes Martin (Pierce Brosnan), a disgraced TV personality; Maureen (Toni Collette), a desperate single mother; Jess (Imogen Poots), a troubled teen; and JJ (Aaron Paul), a failed musician. Watch the first trailer after the jump.
A Long Way Down hits the Berlin Film Festival next month before opening March 21 in the U.K. Sadly, no U.S. date has been set.
New Year's Eve on the top of a London skyscraper. MARTIN (Brosnan) is literally on the edge. A once-beloved TV personality, he's now desperate to jump. But he's not alone. Single mother MAUREEN, (Collette), sassy teen JESS (Poots), and failed musician turned pizza-delivery boy JJ (Paul), have all turned up on the same roof with the same plan.
Instead of jumping, these four strangers make a pact to stay alive and stay together until Valentine's Day at least.  Both funny and poignant, A LONG WAY DOWN follows this group of unlikely friends as they try to pull back from the brink.