'X-Men: Days Of Future Past' Character Covers Include New Sentinel Design [Updated]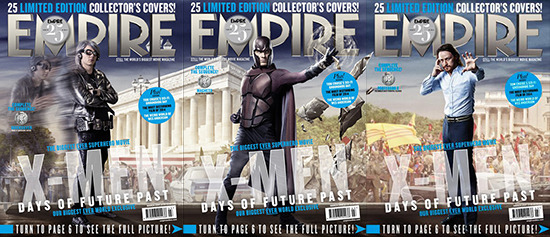 There might be a lot of new stuff to see from X-Men: Days of Future Past today. Empire Magazine is celebrating its 25th anniversary, and will be revealing 25 different Days of Future Past covers over the course of the day. We'll update as new installments come in. Maybe there'll be some new footage, too.
The first features our best look yet at one of the versions of the Sentinels. Those are the giant robots which, based on early marketing, may serve a general military purpose in parts of the story's timeline. Eventually, however, if the film holds true to the comic book story from which it takes its name, the Sentinels will be adapted to hunt and kill mutants. They're relentless; a massacre is coming.
Other covers feature mutants and humans both familiar and new, including the Days of Future Past versions of Bolivar Trask, William Stryker, Toad, Magneto, Quicksilver, and many more. Bryan Singer's portrait seems to be the midpoint of a giant scroll image, which now moves forward with the "future" version of Wolverine. So previous images of characters like Magneto and Charles Xavier will probably be duped with Ian McKellen and Patrick Stewart. Will the end feature the final Sentinel design? We'll be updating this post as more covers are revealed, so check back throughout the day.
Update: As expected, the final cover is the previously-unseen design for the Sentinel of the future. Check it out below.
Here's the final stitched-together version of the giant scroll image. Click to enlarge.

And a gallery of each individual cover.
And, finally, here's the last cover: the Sentinel of the future. That's... not quite what we expected to see. Looks like it is based on some of the Nimrod designs from various X-Men comics, but maybe with a nanotech or modular construction? Do those little plates move and shift around to allow the thing to change its shape?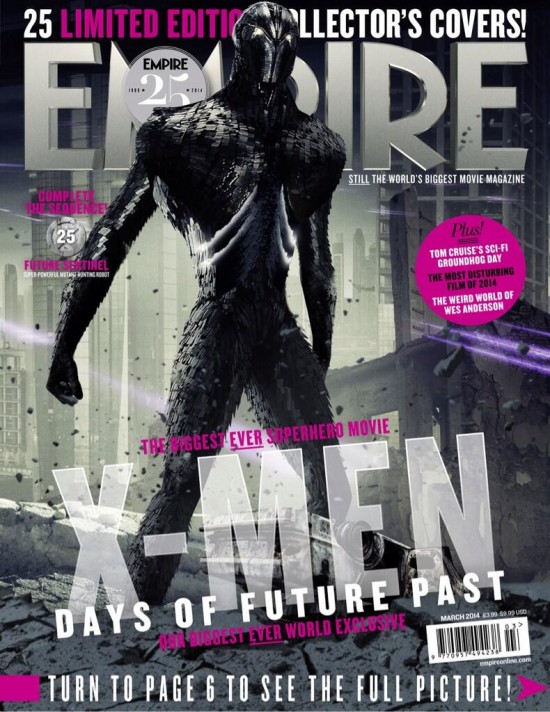 X-Men: Days of Future Past opens on May 23. It stars Patrick Stewart, Ian McKellen, Hugh Jackman, Michael Fassbender, James McAvoy, Jennifer Lawrence, Halley Berry, Nicholas Hoult, Ellen Page, Shawn Ashmore, Peter Dinklage, Omar Sy, Daniel Cudmore, Fan Bingbing, Boo Boo Stewart, Adan Canto, Evan Peters, Josh Helman and Lucas Till.