'The Hunchback Of Notre Dame' Next Disney Film To Get Stage Adaptation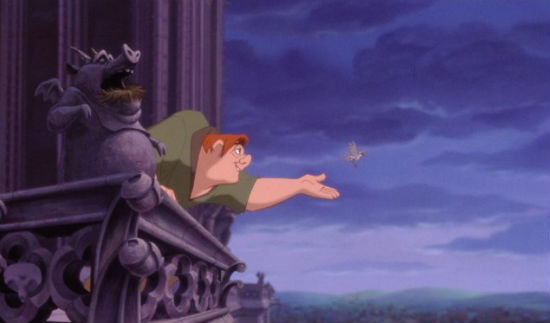 Disney has a long history of bringing their successful film musicals into real life via the theater stage. Movies like Beauty and The Beast, Mary Poppins and The Little Mermaid have all made it to Broadway. The Lion King, Newsies and Aladdin are still (or soon to be) playing. There are rumors Frozen is in the works too, but before that can go into production a brand new project has been announced. It's based on the 1996 film The Hunchback of Notre Dame, and will feature the music and lyrics of multiple Oscar, Grammy and Tony winners Alan Menken and Stephen Schwartz, responsible for work like Newsies, Wicked, and Little Shop of Horrors.
The show will debut at the La Jolla Playhouse in San Diego, CA in October before a potential, but as-yet-unconfirmed, Broadway run.
The La Jolla Playhouse made the announcement, via the Los Angeles Times and others. It's not a 100% Disney production, however, it's a "special arrangement" with Disney because the show was actually performed in Germany in 1999.
Here's the full press release:
The musical, written by the multiple Academy, Grammy and Tony Award-winning team of composer Alan Menken (Newsies, Little Shop of Horrors) and lyricist Stephen Schwartz (Wicked, Pippin), will feature a book by Peter Parnell (The West Wing, On a Clear Day You Can See Forever) and will be directed by Scott Schwartz (Playhouse's Jane Eyre, Broadway's Golda's Balcony). Smash's Josh Bergasse will choreograph. Produced by special arrangement with Disney Theatrical Productions, the musical will run October 28 – December 7 in the Mandell Weiss Theatre.
Said La Jolla Playhouse Artistic Director Christopher Ashley, "With great anticipation, I look forward to collaborating with the powerhouse creative team of Alan Menken, Stephen Schwartz, Peter Parnell and Scott Schwartz to bring Victor Hugo's classic story to life. I am particularly intrigued by the musical's themes of love and aloneness, obsession and heroism – themes that still resonate with our audiences today. Like Peter and the Starcatcher, this potent new work explores new theatrical forms, one of the hallmarks of the Playhouse's mission,"
Based on the Victor Hugo novel and featuring the Oscar-nominated score from the 1996 Disney animated classic, The Hunchback of Notre Dame is the only stage collaboration from two masters of the American musical theatre, composer Alan Menken and lyricist Stephen Schwartz. Celebrated for such beloved and award-winning works as Menken's Beauty and the Beast, Aladdin and Little Shop of Horrors and Schwartz's Godspell, Pippin and Wicked, their artistry reaches its zenith in The Hunchback of Notre Dame.
Featuring a lush, emotionally rich score, this brand-new production from acclaimed director Scott Schwartz highlights the music's orchestral power and choral beauty in an intimate retelling of the famous love story. Librettist Peter Parnell finds a bold, highly-theatrical take on the moving tale of the scorned bell-ringer Quasimodo, the beautiful gypsy Esmeralda and the dashing Captain Phoebus in 15th century Paris. The creative team also includes Josh Bergasse (Smash), choreographer; Michael Kosarin (Newsies), music supervisor and arranger; Michael Starobin (Tangled), orchestrator; Alexander Dodge (Playhouse's Limelight: The Story of Charlie Chaplin), scenic design; Alejo Vietti (Beautiful), costume design; Howell Binkley (Memphis, Jersey Boys), lighting design and Gareth Owen (A Little Night Music), sound design. The Hunchback of Notre Dame is produced by special arrangement with Disney Theatrical Productions, who earlier had developed Peter and the Starcatcher at La Jolla Playhouse as part of the Page To Stage Play Development program before it went on to win five Tony Awards on Broadway.
In the case of most major musicals like this, they do a short trial run in a smaller venue before hitting the great White Way. That'll probably happen with Hunchback too, though it's not confirmed. It's an incredibly theatrical film with some highly underrated music, so this is excellent news. Do you agree?