New Photos And Video: Diagon Alley Expansion Of 'The Wizarding World Of Harry Potter'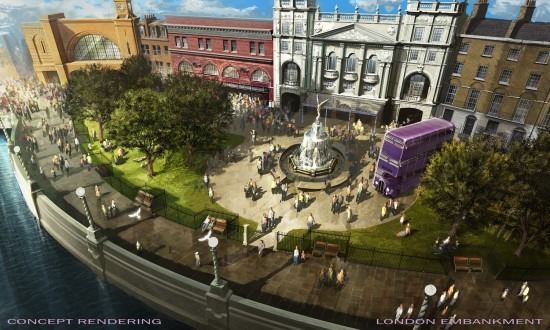 In 2010, Universal Studios Florida opened The Wizarding World of Harry Potter, an expansion of their already successful theme park, and it quickly became one of the most trafficked attractions in the world. Huge crowds have filled the area ever since and Universal quickly realized they wanted to expand.
That expansion, modeled after the Potter area Diagon Alley, is set to open over this Summer and earlier this week, they announced a bunch of specific details about it. The most exciting one is the name of the area's signature thrill ride Harry Potter and the Escape from Gringotts, as well as huge list of stores that will be in the area including The Leaky Cauldron, Florean Fortescue's Ice-Cream Parlour, Weasleys' Wizard Wheezes, Madam Malkin's Robes for All Occasions, Magical Menagerie, Wiseacre's Wizarding Equipment, Quality Quidditch Supplies, Knockturn Alley, and Borgin and Burkes just to name a few. And there will also be a Hogwarts Express riding around.
Watch videos, see concept art and read more below.
First up, here's a gallery of concept art from the expansion. The description is in the bottom right hand corner.
And here's a few video of the announcement.
As well as a montage of those above images via Inside The Magic.
You can read more about the expansion, which also includes a London Waterfront, new street called Carkitt Market, an additional Ollivander's and more, at Inside the Magic. The opening is scheduled for this Summer, possibly in June.