'Oculus' Trailer: Mirror Mirror On The Wall, Who's The Creepiest Of Them All?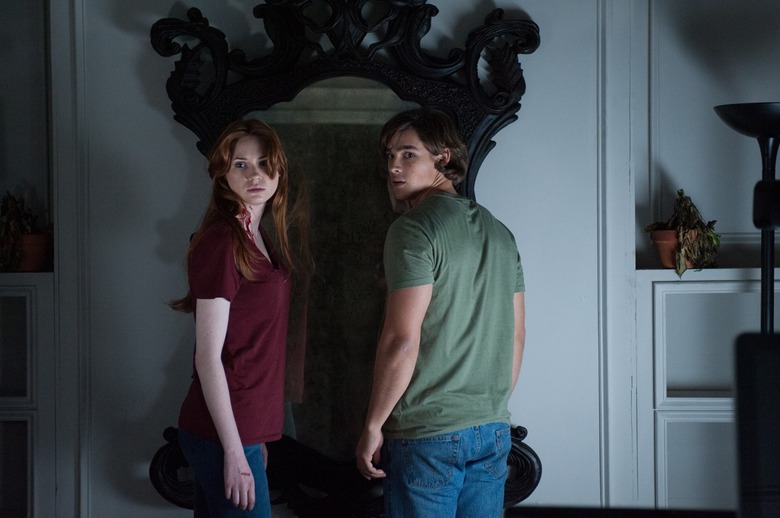 As far as everyday objects go, mirrors can be pretty creepy. Ask anyone who's ever stumbled into a funhouse mirror maze, or who's ever shrieked at a shadowy figure in the dark only to realize they were looking at their own reflection. And those are the ones that aren't haunted by malevolent forces.
In Mike Flanagan's Oculus, two unfortunate siblings (played by Karen Gillan and Brenton Thwaites) have to deal with one that is. As kids, their parents were brutally killed and Tim was convicted of the crime. However, Kaylie has always believed him to be innocent, and after he's released from protective custody as an adult, they set out to prove that the mirror did it.
Which sounds kinda silly, but then again so do a lot of horror movie premises. Oculus received pretty solid reviews when it premiered at TIFF last year and caught the attention of Paranormal Activity producer Jason Blum, who scooped it up for Relativity to distribute. The new trailer has arrived, and you can see it after the jump.
Oculus opens April 11. Katee Sackhoff (Battlestar Galactica) and Rory Cochrane (Dazed and Confused) play Tim and Kaylie's parents in flashbacks.
Ten years ago, tragedy struck the Russell family, leaving the lives of teenage siblings Tim and Kaylie forever changed when Tim was convicted of the brutal murder of their parents. Now in his 20s, Tim is newly released from protective custody and only wants to move on with his life; but Kaylie, still haunted by that fateful night, is convinced her parents' deaths were caused by something else altogether: a malevolent supernatural force­­ unleashed through the Lasser Glass, an antique mirror in their childhood home. Determined to prove Tim's innocence, Kaylie tracks down the mirror, only to learn similar deaths have befallen previous owners over the past century. With the mysterious entity now back in their hands, Tim and Kaylie soon find their hold on reality shattered by terrifying hallucinations, and realize, too late, that their childhood nightmare is beginning again...