Sequel Bits: 'Clerks III', 'Nut Job 2', '300: Rise Of An Empire', 'Horrible Bosses 2'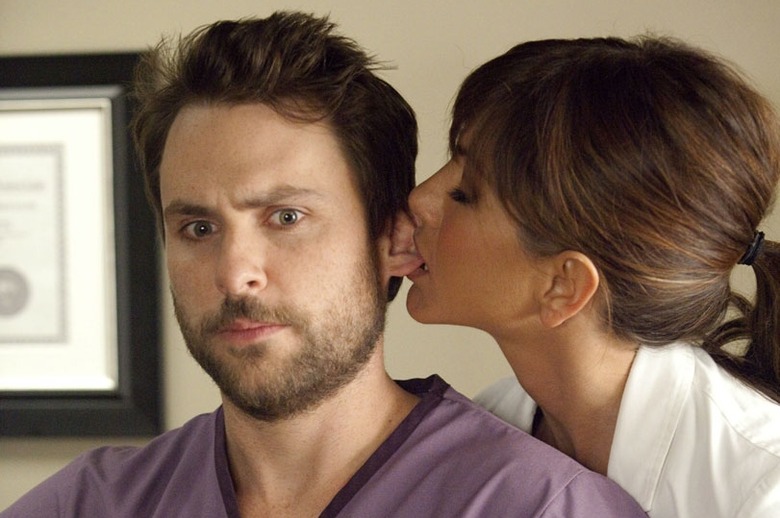 If the first ninety or so 300: Rise of an Empire posters didn't draw you in, maybe this one will change your mind. (It won't.) Also after the jump:
Open Road has another Nut Job planned for 2016
Jennifer Aniston has just four scenes in Horrible Bosses 2
Rosario Dawson is definitely coming back for Clerks III
Tyra Banks promises a Life-Size sequel in 2014 or 2015
Peter Farrelly wants Dumb and Dumber To out earlier
Atlas Shrugged: Who Is John Galt? gets a new cast
The studio announced in a press release that it had the new film set for a January 16, 2016 opening. "It has been a pleasure working with theteams at Redrover, ToonBox and Gulfstream and we are delighted to re-team with them for The Nut Job 2," said Open Road CEO Tom Ortenberg.  The first film centered on a squirrel (voiced by Will Arnett) who plans to rob a nut shop so he can stock up for the winter. [TheWrap]
Jennifer Aniston's dentist character is returning for Horrible Bosses 2, and she's as raunchy as ever. Although Aniston will only have four scenes in the film, according to a new report, she'll make them count by getting very steamy.
We'll spare you the details here, since they're pretty spoiler-y, but you can head over to The Daily Mail if you're curious. (Or if you just want to drool over the lingerie and French maid pics they use to illustrate the article.) The film opens November 26. [via Celebitchy]
Even as he puts the finishing touches on Tusk, Kevin Smith is getting the pieces together for Clerks III. Rosario Dawson is set to reprise her role as Becky, who was introduced in Clerks II as a love interest to Dante (Brian O'Halloran).
The actress revealed her involvement in a recent interview. "[Smith] just confirmed that I'm in it!" she said. However, she seemed uncertain of the project's timing, admitting that she didn't know whether it'd shoot in May or be released in November, as previously planned. [Den of Geek]
Tyra Banks is getting all dolled up again. The model/actress confirmed that a sequel to the 2000 made-for-TV Disney movie Life-Size is in the works, and that she'll return to star. "I have a meeting today to go over the script!" she revealed. "I swear! I don't think it'll be out until probably 2015, but I'm guessing — it could be late 2014 or 2015. But it will be back – Life-Size will be back, better than ever."
The original starred Lindsay Lohan as a middle-schooler whose Barbie-like doll (Banks) is transformed into a real, live woman. Banks would not spill any details about the sequel, but said that it would be "very different, very different. Very modern – a modern take." [Digital Spy]
If Peter Farrelly has his way, we could be seeing Dumb and Dumber To sooner than previously anticipated. "We just finished shooting, don't want to brag, but it could be the best movie of all time," he said during a Reddit AMA. "Seriously though, we're thrilled with it and are trying to get the studio to push the release date up."
Even if that doesn't happen, though, we should get a taste of the movie soon. Farrelly said that a trailer would likely be out "in the next six to eight weeks." Currently, the film is scheduled to open November 14. [Reddit via Moviefone]
The producers behind Atlas Shrugged aren't letting a little thing like their total rejection by the free market get in the way of a third and final installment. Production has begun on Atlas Shrugged: Who is John Galt?, with, once again, a whole new cast.
Kristoffer Polaha will play the John Galt of the title, while Laura Regan will replace Samantha Mathis (who in turn replaced Taylor Schilling) as heroine Dagny Taggart. Hank Rearden, Eric Allan Kramer, and Joaquim de Almeida are also set to star. The film will be released in September, just ahead of midterm elections. [THR]
Warner Bros. has released yet another poster for 300: Rise of the Empire, once again with Sullivan Stapleton swinging a sword and yelling. This is really starting to feel like one of those spot-the-difference games from Highlights. (Here's a previous poster if you want to play.)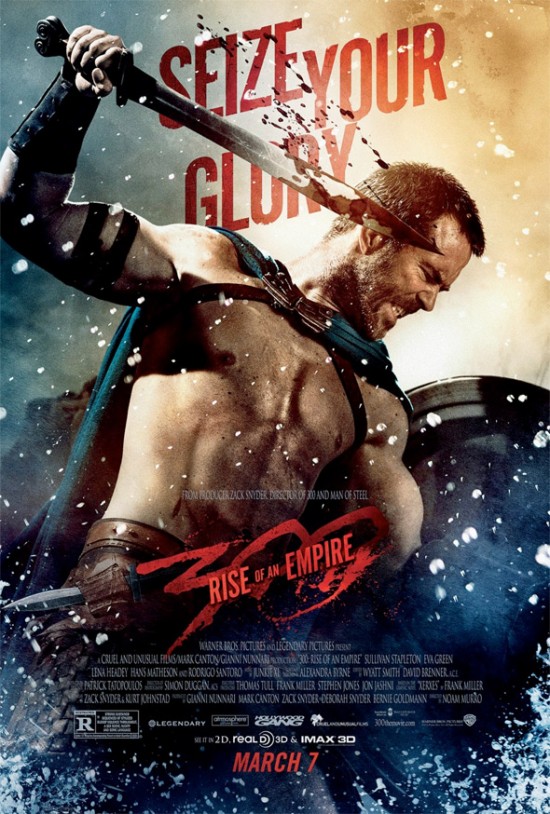 Ready for the answers? The differences are subtle, but this one has the sword in front of Stapleton's head instead of behind it, and his face in profile instead of at a three-quarters angle. Also, the "seize your glory" tagline is a little bigger in this one. The sword-and-sandal sequel (try saying that three times fast) opens March 7. Noam Murro directs.