Kurt Russell's Dad Buys A Baseball Team And Changes History In 'The Battered Bastards Of Baseball' [Sundance 2014 Review]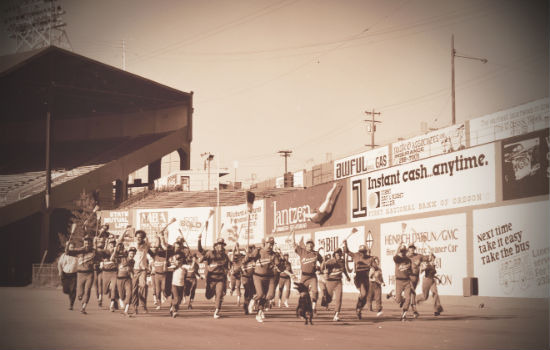 Everyone knows Kurt Russell as one of his generation's most recognizable and badass actors. Some might even know that he was once a professional athlete. What most people don't know, however, is that Russell's father, Bing Russell, was even more eclectic. A famous actor in his own right, the elder Russell eventually used his Hollywood fame to start an independent minor league baseball team called the Portland Mavericks.
That incredible story acts as the epicenter of The Battered Bastards of Baseball, a documentary that premiered at the 2014 Sundance Film Festival. Co-directed by Chapman Way and Maclain Way (Two of Bing Russell's grandsons), it's a fascinating and fun look at one of baseball's hidden and heartwarming stories.
The pleasure of a good documentary is learning about things you previously knew nothing about. For that reason, I won't spoil too much of the plot and reality behind The Battered Bastards of Baseball. What I will say is I've been a baseball fan for almost 30 years and had never heard about the Portland Mavericks, the team Bing Russell created in 1973. They were a bit like a real-life Bad News Bears and helped revitalize a market that Major League Baseball all but ignored.
That's a big point: the Mavericks weren't affiliated with the MLB. At the time, they were the only independent baseball team in the country. That meant they pretty much lived by their own rules. It also meant MLB wasn't fond of their brand of baseball, especially when Russell's team started to win, and the Mavericks had it harder than anyone else.
The Way Brothers have made an incredibly accessible take on a very niche story thanks to their research, top-notch editing and maybe a hint of nepotism. It doesn't hurt the film is about their grandfather and their uncle is Kurt Russell, who often appears in the film. Even so, the pair have undeniably taken this classic underdog story and streamlined it into a bullet-paced, 80 minute documentary with plenty of highs and lows. There's great archival footage, photographs, historical context, modern interviews and more. Thanks to the Russell connection, too, it's a rare sports documentary with a film history DNA, which is fascinating. The Battered Bastards of Baseball one of the best sports documentaries in recent memory.
/Film rating: 8 out of 10