Fox Searchlight Nabs Its Second Film Of Sundance: John Michael McDonagh's 'Calvary'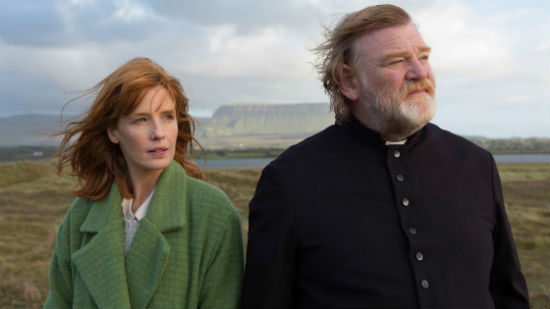 A noble, wise priest is told he's going to be killed in a week simply because he's good. That's the start of Calvary, written and directed by John Michael McDonagh (The Guard), which had its world premiere this week at the Sundance Film Festival. The film, which stars Brendan Gleeson, generated solid buzz for its mix of pseudo-detective story and philosophical rumination. And now, you'll all get a chance to see it as Fox Searchlight acquired it for domestic distribution. It's their second Sundance purchase, following I Origins. 
Here's the full press release on Calvary:
Fox Searchlight Pictures Presidents Nancy Utley and Stephen Gilula announced today that the company has acquired U.S. rights as well as select international territories to the blackly comedic drama CALVARY.  Written and directed by John Michael McDonagh, CALVARY's ensemble cast includes Brendan Gleeson, Chris O'Dowd, Kelly Reilly, Aidan Gillen, Dylan Moran, Isaach De Bankolé, M. Emmet Walsh, Marie-Josée Croze, Domhnall Gleeson, David Wilmot, Pat Shortt, Gary Lydon, Killian Scott, Orla O'Rourke, Owen Sharpe and David McSavage.  The film was produced by Reprisal Films' Chris Clark and Flora Fernandez Marengo and Octagon's James Flynn, and is an Irish Film Board and BFI presentation in association with Lypsync Productions.  The film is scheduled to be released in 2014.
"Brendan Gleeson gives a tour de force performance in a film that John Michael McDonagh has written and directed with perfection, taking us into a world with distinctive characters where the stakes are high," said Gilula and Utley.
"We made a great film. In Fox Searchlight, we now have a great company behind us to send that film out into the world. Thank you, Sundance. Thank you, bourbon! Onward," said McDonagh.
"We were impressed by the passion and commitment of Fox Searchlight towards Calvary, and look forward to the next chapter for the film," said Clark.
"We've found the perfect home for the film and are thrilled to be working with Steve and Nancy and their wonderful team at Fox Searchlight," said Fernandez Marengo.
CALVARY's Father James (Brendan Gleeson) is a good priest who is faced with sinister and troubling circumstances brought about by a mysterious member of his parish. Although he continues to comfort his own fragile daughter (Kelly Reilly) and reach out to help members of his church with their various scurrilous moral – and often comic – problems, he feels sinister and troubling forces closing in, and begins to wonder if he will have the courage to face his own personal Calvary.
The deal was brokered by Fox Searchlight's Executive Vice President of Worldwide Acquisitions Tony Safford, Senior Vice President of Business Affairs Megan O'Brien and Vice President of Acquisitions & Co-Productions Ray Strache with UTA Independent Film Group and Protagonist Pictures on behalf of the film.
Fox Searchlight Pictures is a specialty film company that both finances and acquires motion pictures.  It has its own marketing and distribution operations, and its films are distributed internationally by Twentieth Century Fox.  Fox Searchlight Pictures is a unit of 20th Century Fox Film.