Aaron Paul Has Met With Ron Howard About 'The Dark Tower'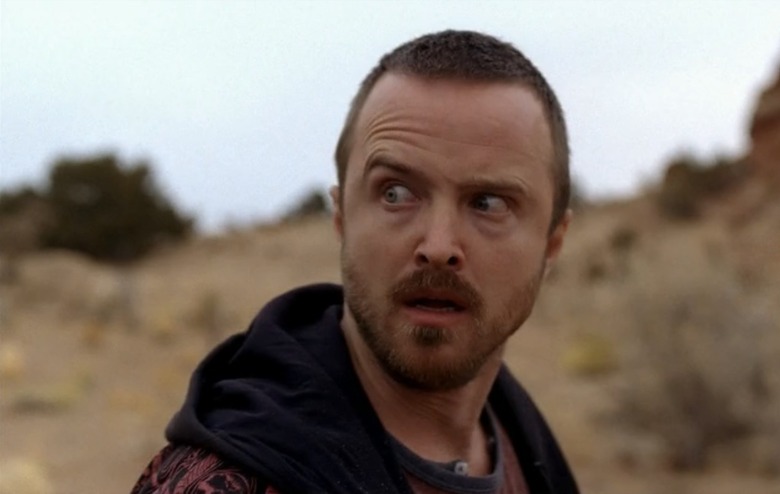 Ron Howard's ambitious adaptation of The Dark Tower has been through plenty of ups and downs over the year, but as of last fall it was coming along slowly but surely. Although Howard declined to offer a specific timetable, he said that he was "continuing to work" on the project.
Now it may be about to take a step forward in the casting department. Former Breaking Bad star Aaron Paul revealed that he has met for the role of Eddie Dean, going so far as to sit down with Howard. Hit the jump to read his comments.
I've had a ton of meetings on that. I just had a general sit down with Ron Howard, who is a huge fan of the show [Breaking Bad, naturally], which is such a crazy thing to even think that Ron Howard even knows who I am. They're definitely planning on making it.
Basically, it sounds like Paul has been seriously considered but has not yet received a formal offer. Paul also confirmed that the plan is to stretch the story out across TV and film, as we've previously heard.
I'm excited. Their goal is to do three films, but also have a television element to it, which will be very interesting. From what I hear, Eddie Dean is a pretty epic, iconic character.
Paul has been a favorite fantasy-casting pick for some time due to the similarities between his Breaking Bad character Jesse Pinkman and The Dark Tower's Eddie Dean, a troubled heroin addict with a talent for gunslinging.
Paul, for his part, doesn't seem worried about typecasting. He's been vocal about his desire to play the role, and even tweeted about it back in October 2012.
"@ThomasStratman: @aaronpaul_8 if theres a Dark Tower movie you gotta promise me you'll play eddie dean" Trust me. HUGE dream of mine.
— Aaron Paul (@aaronpaul_8) October 11, 2012
And now it looks like there's a chance that his big dream is about to come true. How nice to see that Jesse Pinkman is getting a happy ending after all.