'Dumb And Dumber To' Photo: Lloyd And Harry Are Older, Not Wiser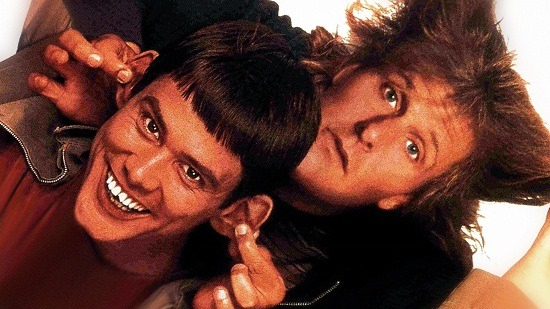 Most of us get wiser with age, or at least we'd like to think we do. It'd be downright depressing if we were all as stupid now as we were ten or fifteen or twenty years ago. But trust Dumb and Dumber's Harry (Jeff Daniels) and Lloyd (Jim Carrey) to be the exceptions.
Dumb and Dumber To sees the famously moronic duo reunited and setting out for another road trip, a full two decades after the first film. Or at least trying to set out on a road trip. The BFFs may be getting nowhere fast, if the first official still is any indication. Check it out after the jump.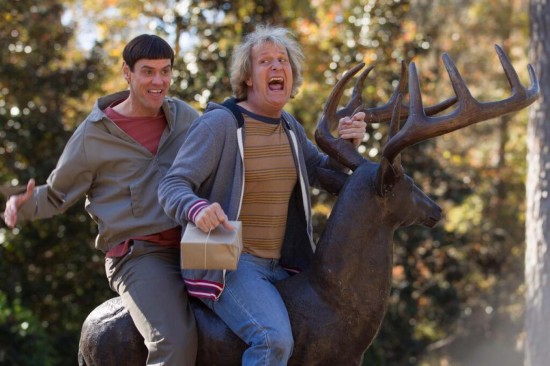 Harry and Lloyd won't make much progress on their trip if they stay there, but their expressions of childlike glee are irresistible. Anyone worried that Daniels and Carrey have lost their grip on these characters after all these years can breathe a sigh of relief.
Dumb and Dumber To opens November 14. Kathleen Turner, Laurie Holden, and Rob Riggle are also set to star, along with Cam Neely (Sea Bass) and Brady Bluhm (Billy in 4C).
Jim Carrey and Jeff Daniels reprise their signature roles as Lloyd and Harry in the sequel to the smash hit that took the physical comedy and kicked it in the nuts: Dumb and Dumber To. The original film's directors, Peter and Bobby Farrelly, take Lloyd and Harry on a road trip to find a child Harry never knew he had and the responsibility neither should ever, ever be given.