'Babylon' TV Trailer: Danny Boyle Teams With The 'Peep Show' Guys For A Cop Comedy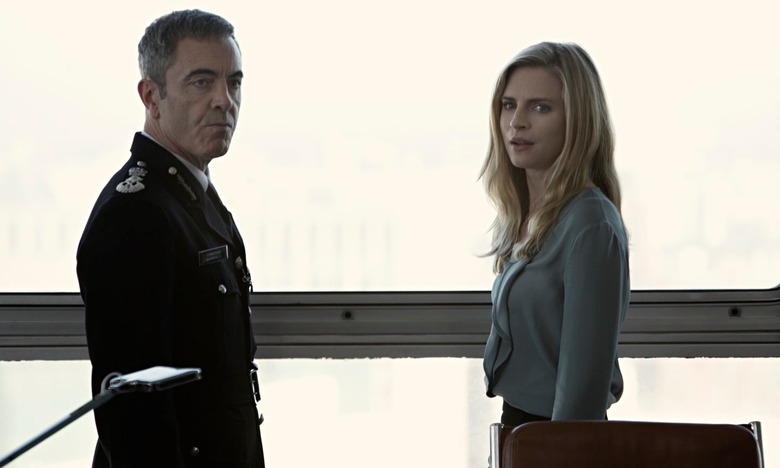 Danny Boyle has a new project out this year, but it won't be found in theaters. Instead, it'll be premiering later this year on television.Babylon stars Brit Marling as Liz Garvey, a PR manager hired by Chief Constable Richard Miller (James Nesbitt) to give the London police department an image makeover. Of course, that's easier said than done, as she's dealing with outspoken, taser-happy cops, a bloodthirsty media, and a staff none too thrilled to take orders from an American with little law enforcement experience.
But as tough as those challenges are for her, they should be great fun for us watching at home. Between Boyle's direction and a biting script by Peep Show creators Sam Bain and Jesse Armstrong, Babylon promises to be sharp, energetic, and very funny. Watch the first trailer after the jump.
The pilot will air in the U.K. next month, with a six-part series going into production this spring for release later this year. Sadly, there's no word yet on when, how, or if the show will reach American shores.
Coppers. The Sweeney. Plods. The Old Bill. London's police force — the oldest in the world — is in need of a public image revamp. And Chief Constable Richard Miller has found just the woman to do it.
Introducing Liz Garvey — an American visionary from the world of new media parachuted in to revolutionise the force's PR department. In an age of rolling news, smart phones and an information-hungry public, Liz preaches transparency and honesty. But as an outbreak of violence erupts across London — and internal back-biting begins led by overlooked colleague Finn — Liz's vision for the future of the world's oldest police service faces its greatest test...
As rolling news channels stream alarming reports of the escalating situation, Chief Commissioner Miller must make rapid decisions in the face of elusive facts. Meanwhile, the Mayor presses ahead with a poorly-timed press conference...waxing lyrical about reduced crime in the capital.
Out on the streets Territorial Support Group officers (TSGs) are tasked with keeping the peace, closely trailed by a fly-on-the-wall TV cameraman desperate for some 'police, camera, action!' Faced with passive protestors and a pugnacious public, TSG Robbie dreams of joining the big boys of Specialist Firearms Command — but with great guns comes great responsibility, as the trained shooters are all too aware.
Fast-paced and razor-sharp, Babylon takes a wry look at the people and politics in the command rooms and on the frontlines of a modern police force, as it attempts to uphold the peace under constant scrutiny in one of the world's busiest capital cities.