'Maleficent' Trailer: Sympathy For The Mistress Of All Evil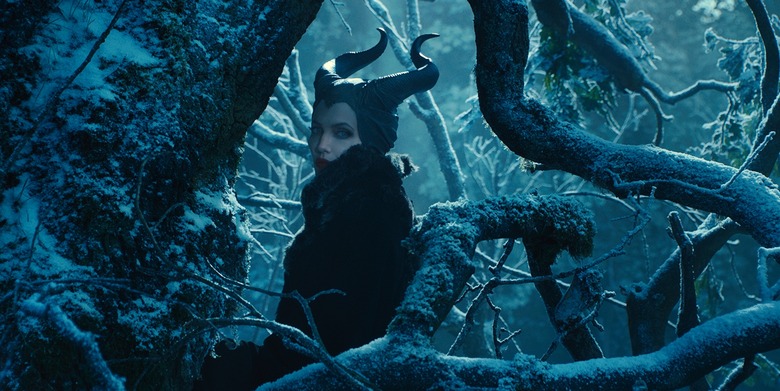 In Disney's original Sleeping Beauty, the divide between good and evil was a pretty clear-cut one. Aurora and her beloved Prince Phillip were good, kind people, and Maleficent was a horrible being who cursed an innocent baby to death. But the studio's upcoming Maleficent suggests that the "real" story may not be so simplistic.
In the Robert Stromberg-directed film, Maleficent (played by Angelina Jolie) starts out every bit as pure and sweet as any Disney princess, until the destruction of her forest kingdom causes her to turn bitter and hateful. The newest promo contrasts the Mistress of All Evil we know from Sleeping Beauty against the complicated woman that Maleficent shows her to be. Watch it after the jump.
The decision to parallel scenes between the old film and the new don't always work to the latter's advantage. The CG/live-action blend looks a bit off at times, particularly when it comes to the fairies, and the awkwardness is only heightened by direct comparisons to the gorgeously animated original.
But it does help to stir up some nostalgia for the Disney classic. It's a pleasant reminder of how likable Disney's last take on the fairy tale was, and should get people excited to see what the studio has to add to the story. Maleficent flies into theaters May 30.
From Disney comes "Maleficent"—the untold story of Disney's most iconic villain from the 1959 classic "Sleeping Beauty." A beautiful, pure-hearted young woman, Maleficent has an idyllic life growing up in a peaceable forest kingdom, until one day when an invading army threatens the harmony of the land. Maleficent rises to be the land's fiercest protector, but she ultimately suffers a ruthless betrayal—an act that begins to turn her pure heart to stone. Bent on revenge, Maleficent faces an epic battle with the invading king's successor and, as a result, places a curse upon his newborn infant Aurora. As the child grows, Maleficent realizes that Aurora holds the key to peace in the kingdom—and perhaps to Maleficent's true happiness as well.