Elijah Wood And Rainn Wilson Fight Zombie Kids In Hilarious, Sloppy 'Cooties' [Sundance 2014 Review]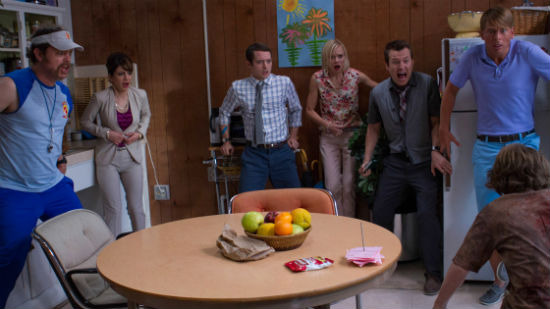 If the idea of a bunch of zombie kids disemboweling their teachers sounds like fun, Cooties is the movie for you. Elijah Wood stars as Clint, a substitute teacher who ends up at the wrong school on the wrong day. He's joined by Allison Pill, Rainn Wilson, Jack McBrayer, Nasim Pedrad and Leigh Whannell, all of whom play teachers tasked with trying to stop a quickly spreading virus that turns kids into rabid flesh eaters.
Whannell, best known for the Saw and Insidious franchises, also co-wrote the film and it pops with hilarious one-liners and disgusting violence. The second act slows down the action considerably, however, and some of the plot holes are massive, but that doesn't take away too much from the good provided by first time directors Jonathan Milott and Cary Murnion.
From the very opening sequence, Milott and Murnion set the tone for the rest of the film. It's a seemingly unrelated scene of the slaughter and processing of chicken nuggets that is gruesome, yet somehow really funny because it's so random. Tone set. The script, by Whannell and Ian Brennan, picks up there with Clint, a failed New York writer living in his old bedroom adorned with Voltron toys and a Jaws poster. We know this guy. So when he shows up to substitute at summer school, we're instantly taken with him. He meets an old high school crush (Pill), her P.E. teacher boyfriend (Wilson) and the rest of the crew, including the socially awkward Doug, played by Whannell himself.
Make no mistake, elementary school child zombies killing teachers is awesome, but Doug is the highlight of the movie. He not only brilliantly spouts off offbeat one-liners, he ends up being the source of exposition and context. Filling in that context, however, is when things start to get messy. The second act drags as the teachers try to figure out a plan and you're left scratching your head at a few things, including the role of Lost's Jorge Garcia. As things tend to do, the third act picks up and finishes on a strong note, but the incredible first 30 minutes are never quite matched.
Cooties is a fun, funny and gory zombie romp. Like most horror comedies, the flaws are quite apparent, but the good outweighs the bad because it's just so entertaining.
/Film rating: 6.5 out of 10