'Laggies:' Keira Knightley, Chloe Moretz And Sam Rockwell Put An Original Spin On Coming Of Age [Sundance 14 Review]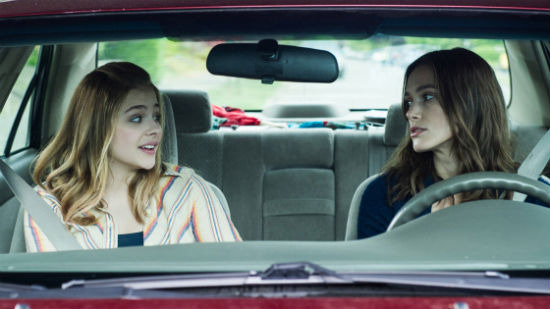 Ask someone what the quintessential Sundance movie is and they might say something with well-known stars, directed by a popular independent filmmaker, in a story about finding one's place in the world. Which, on the surface, is Lynn Shelton's Laggies, starring Keira Knightley, Chloe Grace Moretz and Sam Rockwell. But Laggies breaks from that mold by spinning those festival tropes in an original, likable way.
Knightley plays Megan, a 28-year-old struggling with the inevitability of adulthood. To cope she befriends — and moves in with — a high school girl (Moretz) and her single dad (Rockwell). It might sound a bit creepy, but Shelton's direction and the three lead performances instead lead to a sweet and interesting, if never spectacular film.
Megan is at a point in her life where she needs a change. Even with an advanced degree and a long-term relationship, she's unmarried and working for her dad with no plans for the future. It doesn't help that her friends are boring, getting married and having babies. When she meets the cheerful, 16-year-old Annika outside a grocery store, the two strike up a friendship. Eventually, Megan makes the on-the-fly decision to ask Annika to crash with her for a few days.
The one issue is Annika's dad, Craig. Played by Sam Rockwell, the character is basically Sam Rockwell (as usual) but here, the actor adds an interesting layer of sadness. He is a single father, and raising a teenage daughter isn't easy. Knightley is charming as usual, and Moretz continues to come into her own as a confident, exciting young actress.
These three characters come from different parts of the world, but through the nuanced performances of the leads they fit together beautifully. We totally get how Annika makes Megan feel young and spontaneous again, how Megan makes Annika feel hip and important, and how Craig likes having an adult to talk to. A very mature, believable dynamic ties together the film.
The problem, however, is the dynamic never changes. It remains relatively flat throughout the entire movie. There are never any big highs, low lows or major conflicts. One or two plot points are played out as such but never really resonate like you'd expect in a film about self-discovery. The whole thing is nice and plain, even if the story is engaging.
Laggies is the first film Lynn Shelton has directed that she didn't write, and it shows in both good and bad ways. The film feels bigger, brighter and more mainstream than her other work. However, she also doesn't have total command of the material like she has with her own scripts. The result is a solid, funny film that never rises above its basic appeal.
/Film rating: 7 out of 10