'Locke': An 85 Minute Car Ride With Tom Hardy And His Phone [Sundance 2014 Review]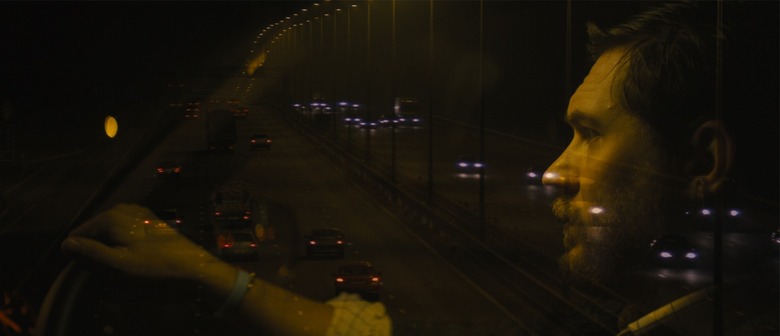 Friday morning I spent 85 minutes with Tom Hardy as he drove a car while fielding phone calls over a Bluetooth connection. It's not as glamorous as it sounds; it's a movie at this year's Sundance Film Festival. Locke, directed by Steven Knight (Oscar-nominated screenwriter of Dirty Pretty Things and Eastern Promises), is a an incredible acting exercise with the spotlight shining on Hardy, and Hardy alone.
The whole film takes place in real time, inside the car as Hardy's character Ivan Locke speeds his way to London to be present for the birth of a child he had out of wedlock. During the ride, Locke is trying to manage a monumental construction job he's is ditching in order to "do the right thing," and also struggling with his own father issues and the looming task of having to admit infidelity to his loving wife.
This might sound like a great contained dramatic construct, and it is — but the problem is that it's more of a one-man play than a movie. There are other characters and voices in the film, but they are only heard through the car's Bluetooth speakerphone system.
Locke lacks any cinematic touch whatsoever. The filmmaker doesn't seem interested in anything more than a character play with a fantastic performance. And I'll give the film that, because in that respect is succeeds.
/Film Rating: 7 out of 10