'Cesar Chavez' Trailer: Michael Peña Leads A Revolution For Director Diego Luna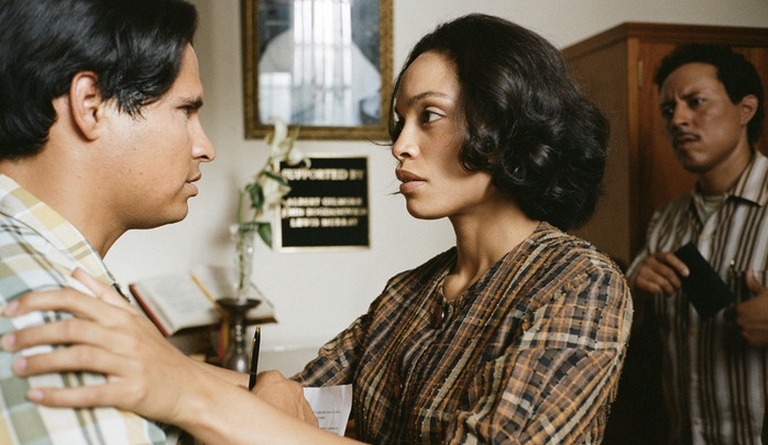 Michael Peña has been working steadily for over a decade, but he's usually the guy in the supporting role, not the lead. So Cesar Chavez seems like a nice change of pace for the underrated actor, as he gets to play the title character this time around.
Directed by Y Tu Mamá También star Diego Luna, the biopic follows the life and times of the iconic civil rights leader, chronicling his farm workers movement from its early days. Peña's End of Watch co-star America Ferrera plays his wife, Rosario Dawson portrays the activist Dolores Huerta, and John Malkovich appears as one of Chavez' adversaries. Watch the trailer after the jump.
The beats look familiar, right down to the overbearing music, but Cesar Chavez ought to be worth checking out for Peña's performance. He looks to be at his best here, portraying Chavez as the extraordinary man that he was without turning him into a cartoon superhero. Cesar Chavez will hit the Berlin Film Festival next month before opening in U.S. theaters on March 28, 2014.
In Cesar Chavez, director Diego Luna presents a powerful cinematic portrait of the legendary activist. The film stars Michael Peña (End of Watch, Lionsgate's Academy Award-winning Crash) in the title role, along with America Ferrera (Ugly Betty, End of Watch), Rosario Dawson (Sin City, Seven Pounds) and John Malkovich (In The Line of Fire, Summit Entertainment's Red and Red 2).
Chronicling the birth of a modern American movement, Cesar Chavez tells the story of the famed civil rights leader and labor organizer torn between his duties as a husband and father and his commitment to securing a living wage for farm workers. Passionate but soft-spoken, Chavez embraced non-violence as he battled greed and prejudice in his struggle to bring dignity to people. Chavez inspired millions of Americans from all walks of life who never worked on a farm to fight for social justice. His triumphant journey is a remarkable testament to the power of one individual's ability to change the world.