'Frank' Clip: Yes, That's Michael Fassbender Under The Giant Fake Head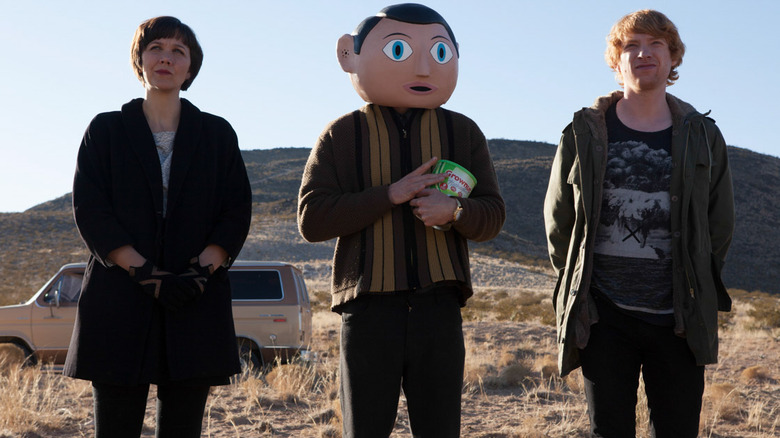 Michael Fassbender has two movies out this weekend, sort of, and they couldn't be more different. One is the awards season re-release of 12 Years a Slave, a grim drama in which Fassbender plays a cruel slave owner. The other is Frank, a comedy debuting at Sundance in which he plays a musician who constantly wears a giant fake head.
Directed by Lenny Abrahamson (What Richard Did), Frank follows a young musician named Jon (Domhnall Gleeson) who falls in with an eccentric band. The leader of the group is Fassbender's Frank, who manages to exude magnetism and power even through that crazy-looking headpiece. The first clip has just hit the web, and you can see it after the jump.
Earlier this week, Germain listed Frank in his list of "Sundance Film Festival movies that sound amazing." After viewing the scene, I'd say that Frank looks as amazing as it sounds. It's funny in an offbeat way, without being too quirky-cute about it, and the cast — which also includes Maggie Gyllenhaal and Scoot McNairy — looks solid.
Weird as it looks, Frank is actually based on a true story. The script comes from Men Who Stare at Goats author Jon Ronson, who was inspired by the time he spent with musician/comedian Chris Sievey. In fact, Fassbender's bizarre fake head is a close recreation of the one Sievey wore while performing as his alter ego Frank Sidebottom.
Frank is a comedy about a young wannabe musician, Jon, who discovers he's bitten off more than he can chew when he joins a band of eccentric pop musicians led by the mysterious and enigmatic Frank and his terrifying sidekick, Clara. Frank's uniqueness lies in the fact that he makes music purely for the joy of creating... and because he wears a giant fake head. After a rocky start, Jon ingratiates himself with the band members, and they retreat to a cabin in the woods to record an album. As his influence waxes, creative tensions mount, and the band's entire raison d'être is called into question.