Steven Soderbergh Heads Off-Broadway With Scott Z. Burns And Chloe Moretz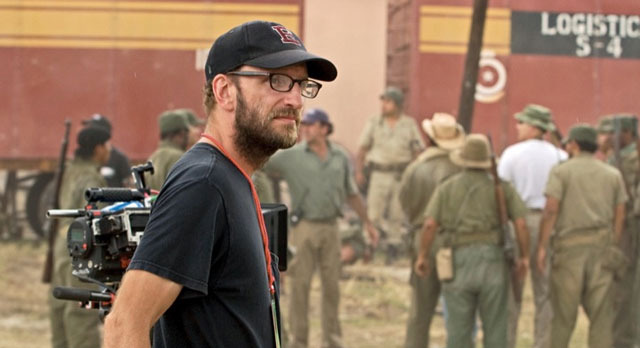 True to his word, Steven Soderbergh has retired from the movies for now. But it's the last part of that phrase — "from the movies" — that's important, because outside of the movies he's remained as busy as ever. First, he transitioned into TV with the HBO film Behind the Candelabra. Then he jumped to a historical miniseries at Cinemax called The Knick.
Now he's preparing to move into another medium altogether. Soderbergh is teaming up with Scott Z. Burns and Chloë Grace Moretz for The Library, an Off Broadway show being put on by New York's The Public Theater later this year. More about his latest project after the jump.
After Caitlin Gabriel (Moretz) survives a deadly shooting at her high school, she struggles to tell her story to her parents, the authorities and anyone who will listen. But there are other narratives that gain purchase in the media and paint her in a different light. Academy Award-winning Director Steven Soderbergh returns to the stage with this bold and chilling world premiere that asks us to examine our relationship to the truth and the lies that claim to heal us.
Burns explained in the statement that he "wanted to write a play about the stories we tell each other in the face of calamity – the pretty lies and the brutal truths." Oskar Eustis, artistic director of The Public Theater, added, "The Library is about one of the most disturbing and important issues of our times – gun violence. The theatre, like our nation, needs to deal with this."
The Library will be the latest of several collaborations between Soderbergh and Burns. Previously, they worked together on The Informant!, Contagion, and Side Effects. Burns' non-Soderbergh screenplays include The Bourne Ultimatum and this year's Dawn of the Planet of the Apes.
Neither has worked with Moretz before. The 16-year-old actress is coming off of Kimberly Peirce's Carrie remake and will be seen in several films this year including the Gillian Flynn adaptation Dark Places and Antoine Fuqua's The Equalizer. The Library marks her New York Stage debut, as it does for Soderbergh and Burns.
The show will enter previews on March 25, with the official opening set for April 15. Performances will begin April 27 at The Public Theater's Newman venue. Tickets will be available starting February 4.