'The Quiet Ones' Trailer: Sam Claflin Gets Spooked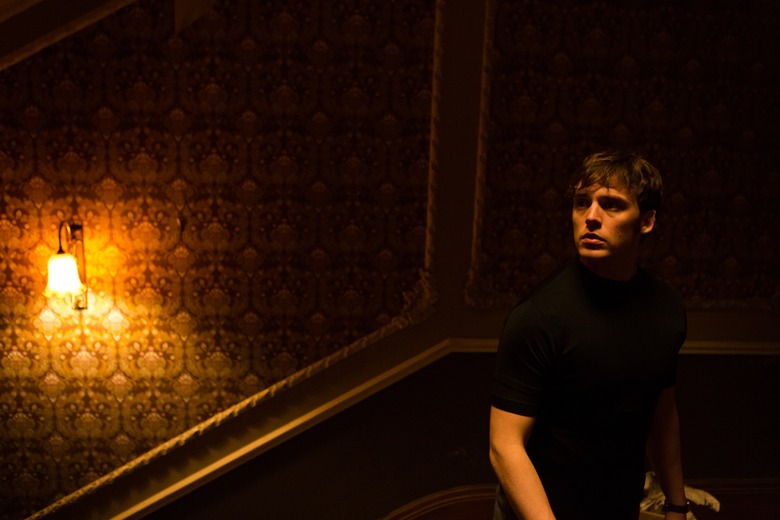 You'd think that, after spending 2013 fending off experienced killers in a dystopian future, Sam Claflin would be hard to scare. But in the first trailer for this year's The Quiet Ones, he looks more terrified than ever.
The Hammer Films production features the Hunger Games actor as a university student in 1974 who participates in a creepy experiment to turn a disturbed young woman (Olivia Cooke) into a poltergeist. As you'd predict, it all goes terribly awry. Also as you'd predict, the film purports to be based on a true story. Hit the jump to see the first trailer.
Though the promo eagerly informs us that The Quiet Ones was produced by the same folks behind The Woman in Black and Let Me In, the footage itself doesn't really measure up. The found-footage conceit is more distracting than engrossing, the scares look generic, and the giant demon-snake thing that pops up at the end is downright laughable.
Frankly, it all looks like a waste of the charisma that Claflin put to such good use in The Hunger Games: Catching Fire. But hey, what hot young star doesn't have a couple of horror stinkers under their belt? Even J.Law had The House at the End of the Street toward the beginning of her now A-list-career.
The Quiet Ones opens April 25.
A university student (Sam Claflin of The Hunger Games: Catching Fire) and some classmates are recruited to carry out a private experiment — to create a poltergeist. Their subject: an alluring, but dangerously disturbed young woman (Olivia Cooke of Bates Motel). Their quest: to explore the dark energy that her damaged psyche might manifest. As the experiment unravels along with their sanity, the rogue PHD students are soon confronted with a terrifying reality: they have triggered an unspeakable force with a power beyond all explanation. Inspired by true events, The Quiet Ones is directed by John Pogue from a screenplay by Craig Rosenberg and Oren Moverman and John Pogue, and based on a screenplay by Tom de Ville.