Trivia: Anne Hathaway Almost Had Jennifer Lawrence's Part In 'Silver Linings Playbook'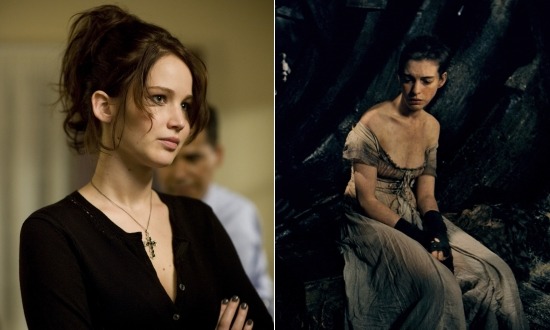 In 2013, both Jennifer Lawrence and Anne Hathaway took the the Oscar stage to accept acting awards — Lawrence for Silver Linings Playbook, Hathaway for Les Misérables. But had things gone a bit differently several months earlier, it could have been Hathaway grabbing the prize for her charming, sexy turn in a David O. Russell movie.
Producer Harvey Weinstein revealed recently that Hathaway had actually been the original choice to star in Russell's movie — opposite Mark Wahlberg, back before Bradley Cooper was confirmed. However, Hathaway and Wahlberg dropped out, Lawrence and Cooper replaced them, and the rest is cinema history. Hit the jump to find out why Hathaway left.
Hathaway was set for the part of Tiffany, an unstable young widow who falls for the equally imperfect Pat Solitano, Jr. However, according to Weinstein, Hathaway departed over "creative differences," although he kept the exact nature of those differences vague. "Whatever happened, happened," he explained. "They didn't see eye-to-eye."
The film actually went through a couple of casting changes in the early stages. Those with long memories may recall that Angelina Jolie was also once eyed for the part, before it finally landed in Lawrence's lap. Meanwhile, Cooper was originally courted for the male lead before Wahlberg climbed aboard. When he hopped back off, the part reverted to Cooper.
Stern remarked that Hathaway was probably "kicking herself in the head" over that decision, but Weinstein shrugged it off. "Well, whatever. I don't think so," he replied. "She went on to win the Academy Award for Les Misérables – maybe we're kicking [ourselves] in the head." Though I wouldn't be surprised if Hathaway felt a twinge of jealousy all the same. After all, Lawrence didn't have to starve herself and cut off all her hair to win her prize.