'The Pretty One' Trailer: Zoe Kazan, Jake Johnson, And An Extreme Case Of Mistaken Identity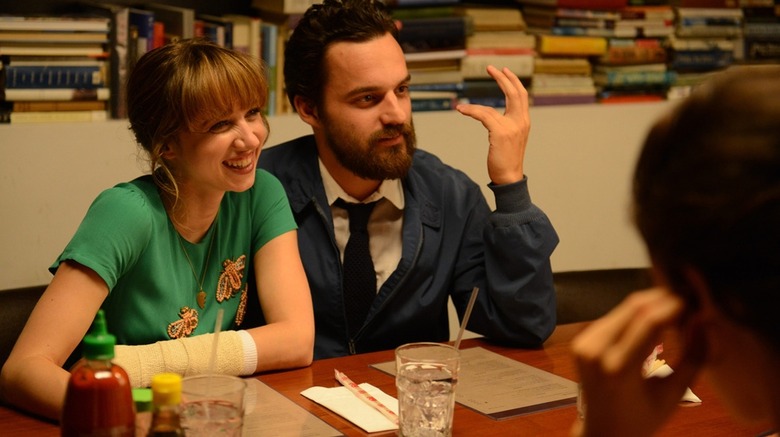 At first, Jenée LaMarque's The Pretty One appears to be built around a Parent Trap-esque gimmick. Zoe Kazan plays identical twins Laurel and Audrey. Audrey is "the pretty one" — a chic, outgoing go-getter — while Laurel is the mousy wallflower.
But then a horrible accident leaves one of them dead, and it's here that the story really kicks in. Everyone assumes it's Laurel who perished, but only Laurel knows the truth. Rather than correct them, though, she gives in to the temptation to live it up as Audrey.
Jake Johnson stars as Laurel's love interest and Ron Livingston co-stars as an ex of Audrey's, which makes this the second time he and Johnson have had eyes for the same woman (well, sorta) in an indie dramedy. One more, and we could call it a trend. Watch the trailer after the jump.
I feel like there's an alternate version of this story that would play as a horror film or a noir thriller. But here, Laurel's assumption of her dead sister's identity leads to what looks like a sweet, funny tale of a young woman coming into her own. The Pretty One debuted at Tribeca last year to so-so reviews. Although Kazan won praise for her strong double performance, the uneven tone led some critics to sour on the film as a whole.
The Pretty One opens February 7.
The Pretty One is a coming of age comedy about identity and loss and a wallflower who finally learns how to break out of her shell. In a balancing act of a performance, Zoe Kazan portrays a dueling mixture of loss and awakening as twins Laurel and Audrey, most poignantly as a relationship blooms with her new neighbor (Jake Johnson). As Laurel begins to slip into the life she has always wanted but never thought was possible, she must decide between continuing her life as Audrey and revealing herself as the perfect fraud.