Bryan Cranston Roars Like A Monster In 'Godzilla' Set Visit Footage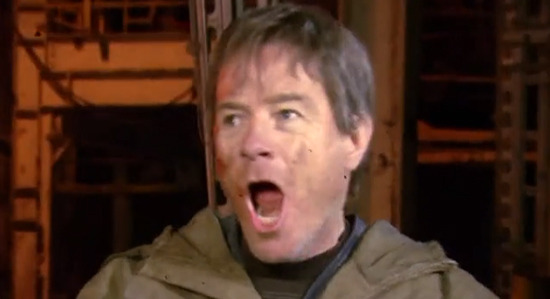 Bryan Cranston roars like Godzilla. Those five words are all you need to know before watching the video below. OK, there's more, such as that the video is the product of an Entertainment Tonight (sorry, ET Canada) set visit to the production of Gareth Edwards' new take on the Japanese monster. But like so many of those TV broadcast set visits, it's mostly a fluff piece with few details to recommend it.
There's some behind the scenes footage of the aftermath of a monster attack, and it's nice to see Sally Hawkins interviewed for a thing like this. There's even some Breaking Bad footage, in case you forgot the last great thing Cranston was in. But you will get to see Cranston do his best impersonation of Godzilla's famous roar, and that's worth a few seconds of your time.
Godzilla opens on May 16. Aaron Taylor-Johnson, Elizabeth Olsen, Juliette Binoche, and David Strathairn also star.
An epic rebirth to Toho's iconic Godzilla, this spectacular adventure pits the world's most famous monster against malevolent creatures who, bolstered by humanity's scientific arrogance, threaten our very existence.