'The Conjuring' Spinoff 'Annabelle' Moves Ahead With New Stars And A Start Date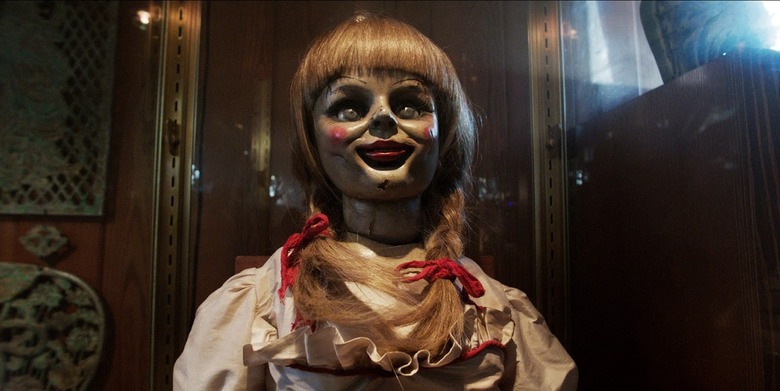 Though she wasn't the main focus of The Conjuring, Annabelle the doll was one of its most memorable visions. Her cracked gray face and clown-like smile look like the stuff nightmares are made of, even before it's revealed that she's possessed by demons hell-bent on destroying her roommates.
She was so effectively creepy, in fact, that now she's getting her own movie. New Line is moving ahead with the Conjuring spinoff Annabelle, casting Annabelle Wallis and Ward Horton in the leads. Shooting will get underway later this month. Get plot details and more after the jump.
Plot details are being kept under wraps for now, although we've heard rumors that it will be set before the events of The Conjuring. The very curious may find some clues in stories about the true Annabelle.
While The Conjuring featured well-known faces like Patrick Wilson, Vera Farmiga, Ron Livingston, and Lili Taylor, Annabelle will have a less starry cast. Wallis is a TV vet known her appearances on The Tudors and BBC's Peaky Blinders. She also previously had small roles in X-Men: First Class, W.E., and Snow White and the Huntsman. Horton is on the soap opera One Life to Live and recently played an unnamed broker in The Wolf of Wall Street.
The Conjuring was a smash hit last summer, grossing $318 million worldwide on a $20 million budget. As such, it's sparked its own franchise. Annabelle is one of three spinoffs reported as being in development last year. Additionally, a direct sequel is still in the works. According to Variety, Annabelle will begin shooting January 27 in Los Angeles.