'Mr. Peabody & Sherman' Trailer And Clip: The Most Interesting Dog In The World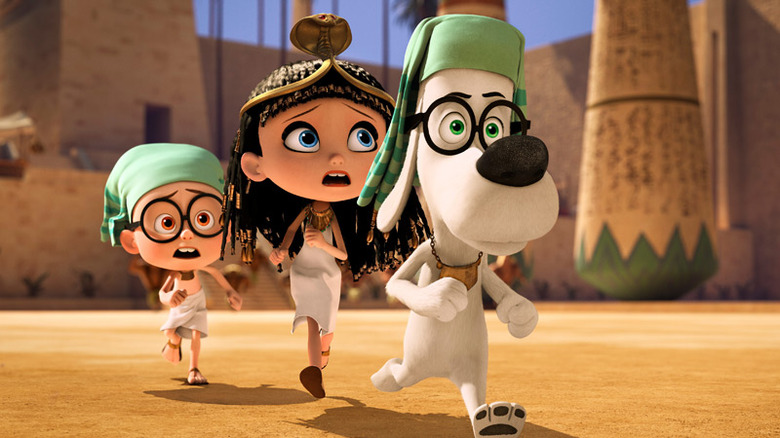 It's probably just a matter of time before someone gets the idea to make an NBC sitcom based on Dos Equis' The Most Interesting Man in the World, but until then we'll have Mr. Peabody & Sherman. Sherman (voiced by Max Charles), the human half of the classic cartoon duo, is an ordinary kid, but Mr. Peabody (voiced by Ty Burrell) has a list of accomplishments that'd make Mr. Dos Equis himself raise a perfectly groomed eyebrow.
The newest trailer explains that this is a dog who earned a Ph.D and invented the fist bump, Autotune, and the time machine. The latest clip adds that he's also a musical genius and a license chiropractor. The only thing he can't do, apparently, is keep Sherman from traveling back in time and creating a rift in the space-time continuum. Which turns out to be kind of a problem. Watch the videos after the jump.
And here's the clip, from Fandango. Keep your ears open — that's Stephen Colbert voicing the unimpressed Paul Peterson, and Leslie Mann as his wife.
Mr. Peabody & Sherman opens March 7. Ariel Winter, Stanley Tucci, Patrick Warburton, Zach Callison, Stephen Tobolowsky, Allison Janney, Lake Bell, and Mel Brooks are also among the cast.
Mr. Peabody, the most accomplished dog in the world, and his mischievous boy Sherman, use their time machine – The WABAC – to go on the most outrageous adventures known to man or dog. But when Sherman takes The WABAC out for a joyride to impress his friend Penny, they accidentally rip a hole in the universe, wreaking havoc on the most important events in world history. Before they forever alter the past, present and future, Mr. Peabody must come to their rescue, ultimately facing the most daunting challenge of any era: figuring out how to be a parent. Together, the time traveling trio will make their mark on history.