'They Came Together' Clip: Paul Rudd And Amy Poehler Flirt And Bicker For David Wain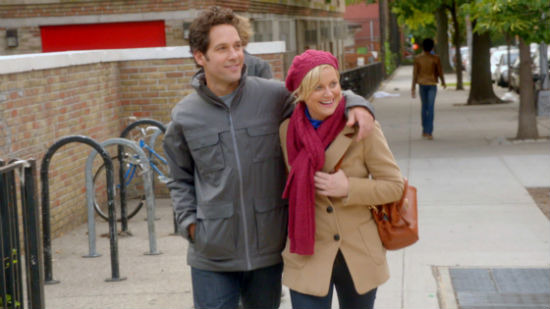 Thirteen years after Wet Hot American Summer, David Wain is getting the Camp Firewood gang back together. Well, some of them, anyway. And in completely different roles. In a totally different setting.
Okay, so They Came Together isn't really a Wet Hot American Summer sequel at all. Instead, it's a parodic take on the You've Got Mail formula. But with Paul Rudd, Amy Poehler, Michael Ian Black, Ken Marino, and Christopher Meloni all lined up for roles, it looks like the next best thing.
Check out the first clip, featuring Rudd, Poehler, Max Greenfield (New Girl) and Teyonah Parris (Mad Men) after the jump.
The scene is a spot-on imitation of the modern romantic comedy, down to the obligatory best friends who seem fated to fall into bed together. Knowing Wain, though, They Came Together is bound to take some weird detours on its way to the inevitable happy ending.
The film debuts at the Sundance Film Festival later this month. Lionsgate will release the film into theaters later this year but has not yet announced an exact date. The non-WHAS supporting players include Cobie Smulders, Michael Shannon, Ed Helms, Michaela Watkins, and Jason Mantzoukas.
Here's the Sundance synopsis, plus the poster below that.
They Came Together relates the epic love story of Joel, a corporate executive for Candy Systems and Research, a mega candy store chain, and Molly, the owner of a small sweet shop called Upper Sweet Side. When Joel is tasked with shutting down Molly's mom-and-pop operation, the unlikely lovers find themselves hurtled into a whirlwind romance. From quaint bookstores and coffee shops to neurotic family members and psychotic ex-lovers, Joel and Molly must face some harrowing obstacles on their path to true love.