Disney Already Discussing 'Frozen' Becoming A Broadway Musical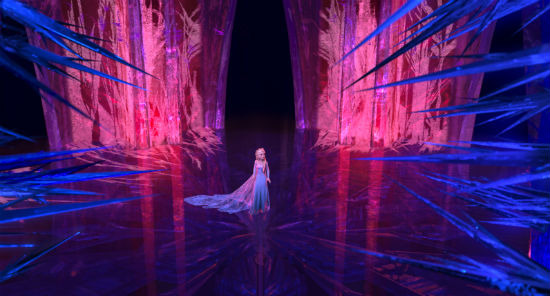 Disney execs had a feeling Frozen was going to be a hit, but it's blown away their wildest expectations. Two months into its run, the winter-themed musical has grossed over $315 million domestic with another $400 million-plus worldwide, and counting. Those numbers are better than the first release of The Lion King (not counting inflation or 3D) and with an Oscar nomination and possible win coming soon, the sky is the limit for the film.
That also means Disney is looking at ways to expand the brand. A theme park ride is possible, a sequel is all but inevitable, and now Disney CEO Bob Iger admitted they've begun to discuss following shows such as Beauty and the Beast, The Little Mermaid, Aladdin, and The Lion King with a Frozen Broadway musical.
The confirmation comes from a long piece on Frozen and Iger at CNN Fortune:
In his interview with Fortune, Iger confirmed for the first time that Disney is in discussions to develop a show, though there is no set time frame. "We're not demanding speed," he says. "We're demanding excellence."
In the past, Disney has proved their franchises endure beyond a theatrical window. One recent example is Newsies, a bomb when it opened in 1992, which became a massive Broadway hit two decades later. It likely won't take that long for Frozen to get the adaptation but there's no rush. Disney Theatrical has Aladdin opening this year, which also took several decades to develop.
Do you think Frozen will work as a Broadway musical?