'24: Live Another Day' Gets Yvonne Strahovski And A Premiere Date [Updated With New Plot Details]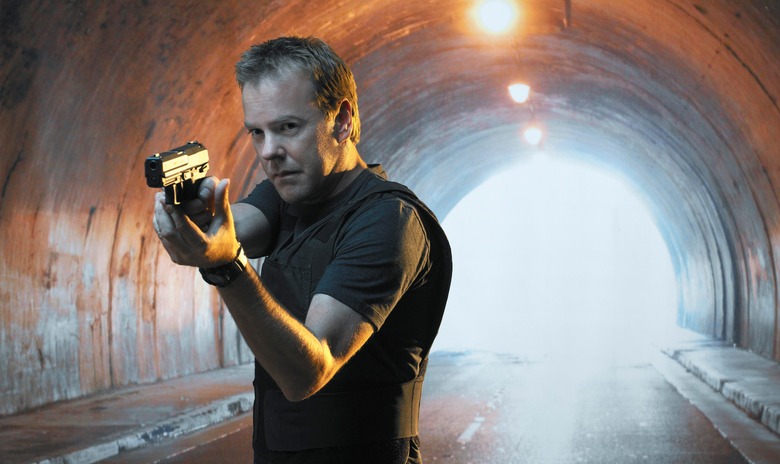 After a stint as a serial killer on Showtime's Dexter, Yvonne Strahovski is returning to the spy life. The Chuck alumna has signed on for Fox's event series 24: Live Another Day, becoming one of several newcomers to the franchise. Original series stars Kiefer Sutherland, Mary Lynn Rajskub, Kim Raver, and William Devane are set to reprise their roles.
As for when we'll get to see all this talent in action, Fox has finally confirmed a spring date for the 12-episode run. Hit the jump for premiere dates for 24, Surviving Jack, Gang Related, and Seth MacFarlane's Cosmos, plus more details on Strahovski's role.
Update: Keep reading for new comments from Sutherland and executive producer Evan Katz on the plot of the miniseries and the possibility of a follow-up film.
The new episodes will pick up with Jack four years after we last saw him. A lot's happened to him since then — he's relocated to Europe, for one — but some things never change. 24: Live Another Day has him trying to shut down yet another terrorist attack, this time in London.
Aside from Chuck and Dexter, Strahovski's credits include Killer Elite and The Guilt Trip. Later this month, she'll appear alongside Aaron Eckhart in the fantasy adventure I, Frankenstein.
The 24 sequel will kick off Monday, May 5 with a two-hour premiere. The following week, it'll settle into its regular timeslot at 9 PM on Mondays. Giles Matthey, Gbenga Akinnagbe, Michael Wincott, and Judy Davis are also set to appear.
In other spring TV news, Fox has also set the family comedy Surviving Jack for a March 27 premiere, while the cop drama Gang Related will bow on May 20, according to Variety.
MacFarlane's documentary TV series Cosmos: A Spacetime Odyssey will debut March 9 before premiering on National Geographic on May 10. The 13-episode series is a follow-up to Carl Sagan's Cosmos: A Personal Voyage, which aired in 1980.
Update: The new episodes have been getting a lot of attention, but don't forget about the potential film sequel. "The script for the film is very different," said Sutherland. "The film is an ongoing situation. There's always an opportunity to do that."
Meanwhile, Katz adds that Strahovski's Morgan will be chasing Bauer, who's still "a fugitive of a high order," and that Chloe (Rajskub) will show up as an Edward Snowden-esque radical helping Jack.