'Only Lovers Left Alive' UK Teaser: "I Have What You Need"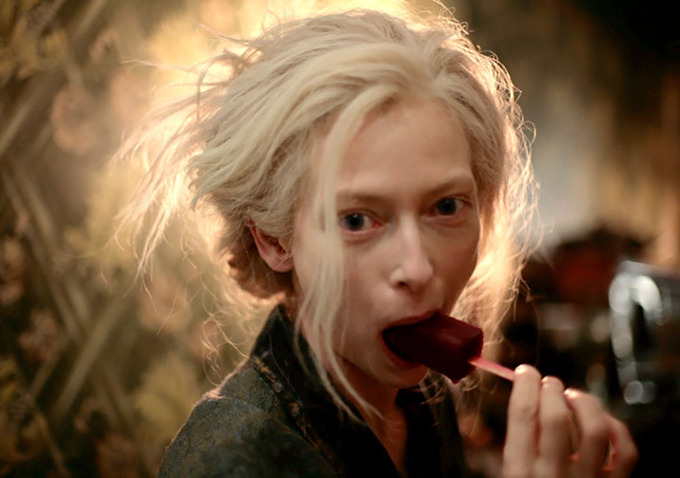 Leave it to Jim Jarmusch to take a tired trend — vampires — and give it new life. Only Lovers Left Alive landed on my top 10 of 2013 list, as well as Russ' most anticipated of 2014 list, and the latest trailer from the U.K. may offer some clues as to why.
I'll be honest: There's not much in the way of new footage here. But it's been a couple of months since the last promo, and there are certainly worse ways to spend 30 seconds than basking in the cool glow of Tom Hiddleston and Tilda Swinton as shot by Jarmusch. Hit the jump to watch the video.
Only Lovers Left Alive follows roughly a couple of weeks in the lives of Adam (Hiddleston) and Eve (Swinton), two vampires in the longest of long-term relationships. As she says in the promo, 1868 was their third wedding.
The dark, moody, so-cool-it-burns vibe should do well to attract some attention, but I wish the trailer did a better job of conveying how funny and sweet the movie really is. Hiddleston and Swinton are irresistible as a couple who've been together long enough to know each other's quirks inside and out, yet have never stopped delighting in each other. They're surrounded by an amazingly entertaining supporting cast including Mia Wasikowska as Eve's party-girl sister, Anton Yelchin as Adam's human friend, and John Hurt as a vampiric Christopher Marlowe.
Only Lovers Left Alive opens February 21 in the U.K. and April 11 in the U.S.
Starring Tilda Swinton, Tom Hiddleston, Mia Wasikowska, John Hurt, Anton Yelchin and Jeffrey Wright, ONLY LOVERS LEFT ALIVE takes place against the romantic desolation of Detroit and Tangier and follows an underground musician, deeply depressed by the direction of human activities, who reunites with his resilient and enigmatic lover. Their love story has already endured several centuries at least, but their debauched idyll is soon disrupted by her wild and uncontrollable younger sister.